FREQUENCY OF DIFFERENT DISORDERS REQUIRING WARFARIN THERAPY AND ITS OUTCOME IN TERMS OF DOSAGE AND INR VALUE IN PAKISTANI POPULATION
Warfarin Therapy
Keywords:
Atrial fibrillation, INR, Valvular heart diseases, Warfarin
Abstract
Objective: To determine the frequency of different disorders requiring warfarin therapy and to see the target INR and warfarin dose requirement in Pakistani population.
Study Design: Descriptive study.
Setting and Duration of Study: The study was carried out at Armed Forces Institute of Cardiology (AFIC) Rawalpindi, Military Hospital Rawalpindi and National Institute of Cardiovascular Diseases (NICVD), Karachi, Pakistan from October 2010 to March 2012.
Patients and Methods: Stable patients taking warfarin therapy were recruited after detailed medical history, physical examination and laboratory tests. The demographic and clinical data of individuals were entered in a pre-structured proforma. Patients suffering from hepatic and renal disease, any co-morbid disease or taking any concurrent medication or diet which would have affected warfarin therapy, were excluded. Data was analyzed using SPSS version 20.0.
Results: A total of 607 stable patients fulfilling the eligibility criteria, participated in the study. There were 297 (48.9%) male and 310 (51.1%) female patients. The mean age was 37.93 ± 12.23 years (range 18–65 years). The most common indication for warfarin therapy was valvular heart diseases (93.4%) followed by atrial fibrillation (2.3%) whereas other indications for warfarin use are less commonly seen in our study population. Patients had mean international normalized ratio (INR) value of 2.3 ± 0.8 (range 1.5–3.5). Mean daily dose of warfarin calculated in 607 patients was 5.62 ± 1.98 mg with the range of 0.36–15 mg whereas mean weekly dose was 39.36 ± 13.8 mg with the range of 2.5–105 mg.
Conclusion: In Pakistani population the most common indications for warfarin use are valvular heart diseases followed by atrial fibrillation. The mean INR values were within recommended range of 2–3. The mean daily dose observed in long-term therapy is comparable to the empirical dose of 5 mg routinely started in clinical practice.
Downloads
Download data is not yet available.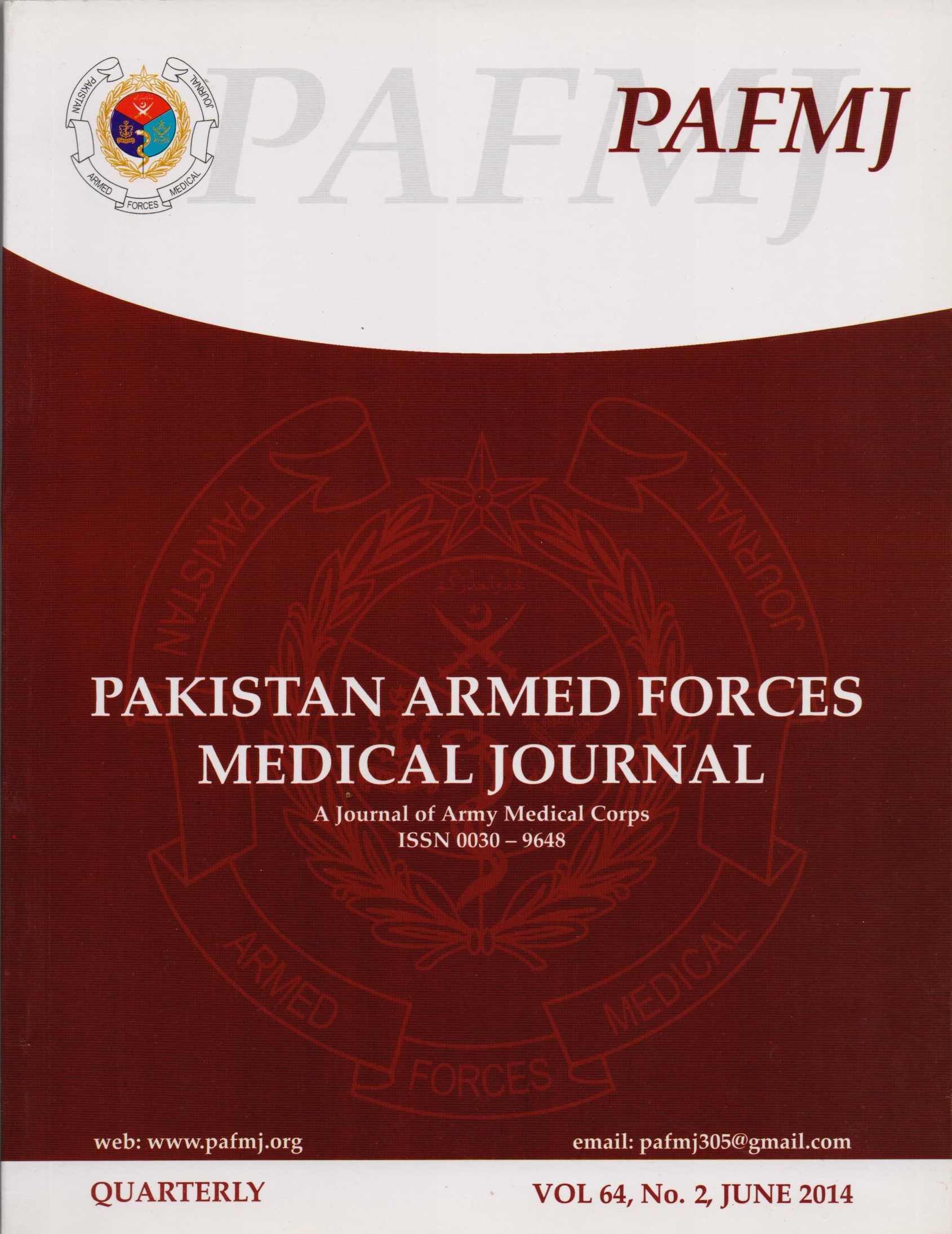 Downloads
How to Cite
Qayyum, A., Najmi, M. H., Naveed, A. K., Khan, Q., & Hussain, S. (2014). FREQUENCY OF DIFFERENT DISORDERS REQUIRING WARFARIN THERAPY AND ITS OUTCOME IN TERMS OF DOSAGE AND INR VALUE IN PAKISTANI POPULATION: Warfarin Therapy. Pakistan Armed Forces Medical Journal, 64(2), 185–89. Retrieved from https://www.pafmj.org/PAFMJ/article/view/626
Section
Original Articles