Analysis of C- Shaped Root Canal Morphology in Mandibular Second Molar using Cone Beam Computed Tomography
Keywords:
Cone beam computed tomography (CBCT), C-shaped root canal morphology, Karachi pakistan subpopulation, Mandibular second molar
Abstract
Objective: To analyse the C-shaped canal configuration in the mandibular second molar in a Pakistani subpopulation using cone beam computed tomography (CBCT).
Study Design: Cross-sectional study.
Place and Duration of Study: Department of Radiology, Dow University of Health Sciences, Karachi Pakistan, from Feb to Jul 2020.
Methodology: Cone-beam computed tomography (CBCT) scans of the mandibular second molar that were taken for some other purpose were included in the study. One hundred fifty mandibular second molar teeth were assessed for C-shaped canal morphology. The c-shaped canal was then further examined at three different levels classifying according to Fan criteria, a modification of Melton's classification. Differences between gender left and right sides, unilateral and bilateral, were determined.
Results: Out of 150 mandibular second molars, a C-shaped canal was found in 13(8.7%) of the teeth examined, in which 9(69.2%) were in females, and 4(30.8%) were in males. Bilateral distribution was found to be 11(92.3%).
Conclusion: A high frequency of C-shaped canal in the mandibular second molars was observed in the present study. Therefore the variations in the morphology of the root canal system of the mandibular second molars should be considered when performing root canal treatment.
Downloads
Download data is not yet available.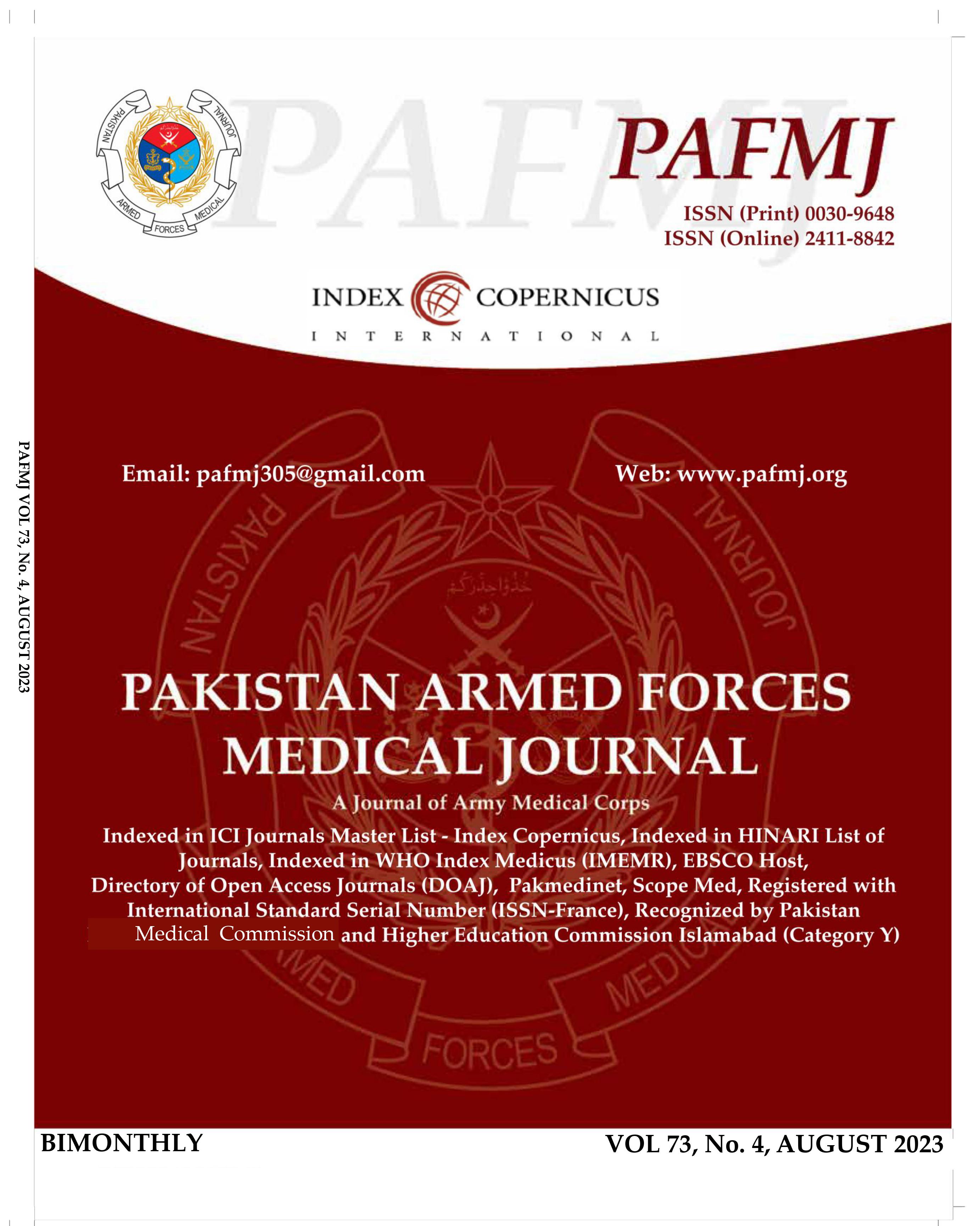 Downloads
How to Cite
Shah, M., Jat, S. A., Qazi, F. ur R., Akhtar, H., Moorpani, P., & Aziz, M. (2023). Analysis of C- Shaped Root Canal Morphology in Mandibular Second Molar using Cone Beam Computed Tomography. Pakistan Armed Forces Medical Journal, 73(4), 1149–1152. https://doi.org/10.51253/pafmj.v73i4.6390
Section
Original Articles