PREMENSTRUAL SYNDROME: MESSES WITH MY ACADEMIC PERFORMANCE
Premenstrual Syndrome
Keywords:
Educational activities, Medical students, Syndrome
Abstract
Objective: This study aims to determine the educational impact of premenstrual syndrome (PMS) on various academic activities of undergraduate female medical students.
Study Design: Cross sectional study.
Place and Duration of Study: Army Medical College, National University of Sciences & Technology (NUST), Islamabad, Pakistan from June 2013 to November 2013
Material and Methods: This cross sectional study was conducted at Army Medical College, National University of Sciences & Technology (NUST) Islamabad. Data were collected from 224 undergraduate female medical students of all professional years. PMS was diagnosed according to WHO's ICD-10 criteria. Impact of premenstrual syndrome on academic activities of female medical students was assessed using a 22-itemed, structured questionnaire.
Results: Two hundred and twenty four female undergraduate medical students gave their written consent to participate in this study. PMS was present among 207 (92.4%) female students. Major PMS symptoms experienced by the female students were: backache (87.5%), fatigue (80.2%), depressed mood (78.2%), anxiety (76.8%), hypersomnia (71%) and poor emotional control (64.3%). The frequency of various PMS symptoms interfered with their academic activities (76.3%), with large group discussion sessions (79.2%), with small group discussion sessions (72.9%), written assessment (66.6%) and oral assessment (70.0%).
Conclusion: The study findings affirm the fact that premenstrual syndrome profoundly affects the academic activities of young female medical students. In the light of these pertinent findings we recommend that health education and counselling services are essential to be provided at medical college campuses for female undergraduates. This will not only help them alleviate the negative effects of PMS but also develop an understanding about their problems, enhancing their academic output and performance in early medical carrier.
Downloads
Download data is not yet available.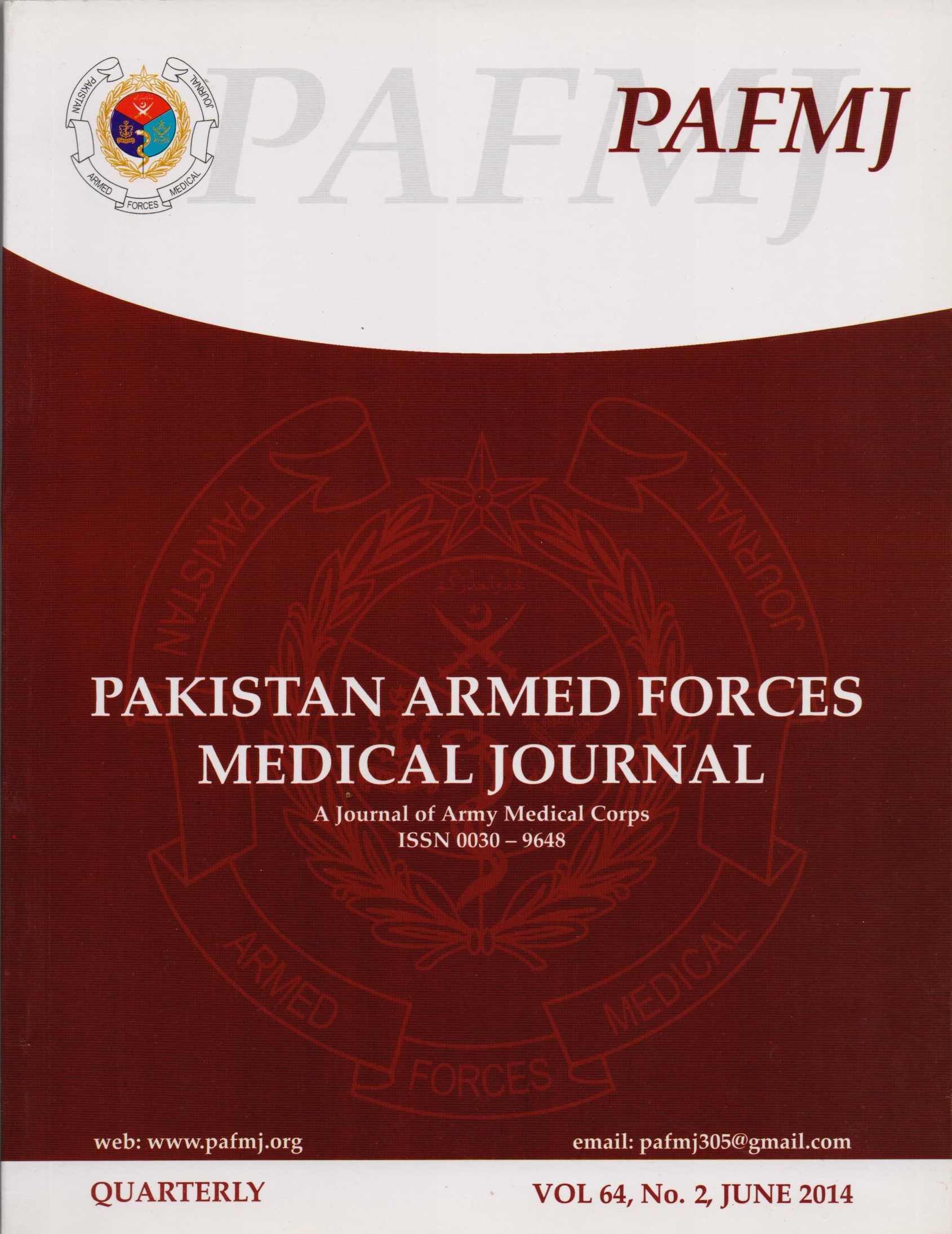 Downloads
How to Cite
Hashim, R., Ayyub, A., Hameed, S., Qamar, K., Ali, S., & Raza, G. (2014). PREMENSTRUAL SYNDROME: MESSES WITH MY ACADEMIC PERFORMANCE: Premenstrual Syndrome. Pakistan Armed Forces Medical Journal, 64(2), 199–203. Retrieved from https://www.pafmj.org/PAFMJ/article/view/657
Section
Original Articles