17p Deletion in Patients with De Novo Acute Myeloid Leukemia and their Clinico-Haematologic Features
Keywords:
Acute Myeloid Leukemia, Clinico-haematologic features, del17p, Fluorescence in situ hybridization
Abstract
Objective: To determine the frequency of 17p deletion in patients with Acute Myeloid Leukemia and their clinical-hematologic features using fluorescence in situ hybridization.
Study Design: Cross-sectional study.
Place & Duration of Study: Department of Hematology, Armed Forces Institute of Pathology, Rawalpindi Pakistan, from Dec 2018 to Dec 2019.
Methodology: All diagnosed cases of Acute Myeloid Leukemia of all ages and genders were included. Interphase FISH testing was performed using blood or bone marrow specimens using 10μL of the Meta systems XL p53 probe, and a total of 500 nuclei per assay were analyzed using a fluorescent microscope. Del 17p positivity and negativity were noted. Clinico-haematologic features of the patients with and without del 17p were also noted.
Results: In our targeted population of 84 patients, there were 25(29.8%) females and 59(70.2%) males. The mean age of presentation was 36.3±1.6 years. The mean total leucocyte count(TLC)was 31.2±4.2×109/L, and the mean platelet count was 69.3±4.5×109/L. Del 17p was detected in a total of 8(9.5%) patients. The median age of patients with del 17p at diagnosis was 33 years, the mean TLC was 12.32±10.36x109/L, and the mean platelet count was 80±26.73*109/L. Prominent clinical features among patients with del 17p included fever and pallor.
Conclusion: Our study suggests a relatively low frequency of del 17p in AML (9.5%), which is consistent with international data.


Downloads
Download data is not yet available.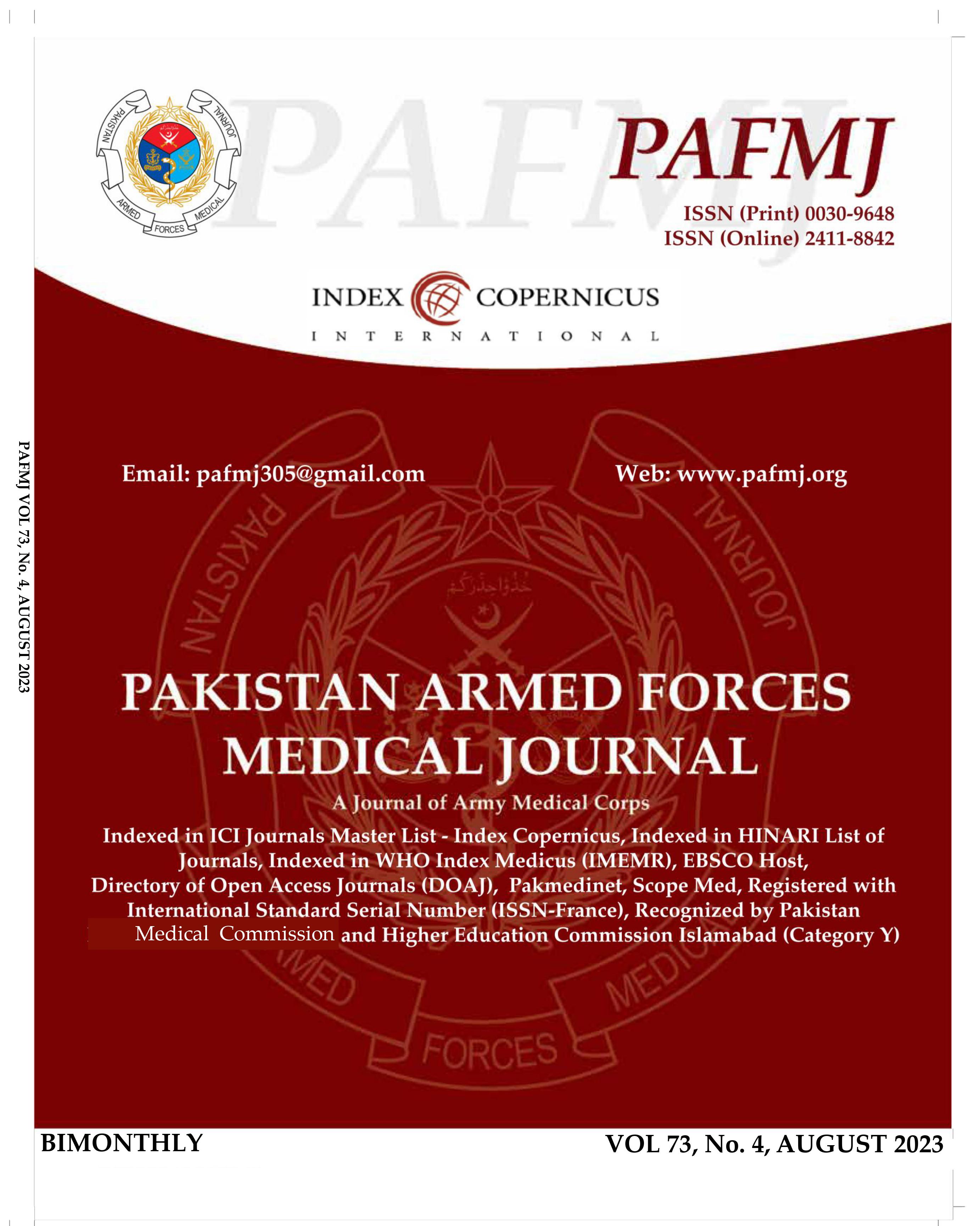 Downloads
How to Cite
Jalil, S., Robert, H. M., Malik, H. S., Abbasi, A. M., Fatima, S., & Niaz, H. (2023). 17p Deletion in Patients with De Novo Acute Myeloid Leukemia and their Clinico-Haematologic Features. Pakistan Armed Forces Medical Journal, 73(4), 1141–1144. https://doi.org/10.51253/pafmj.v73i4.6653
Section
Original Articles