Absolute Lymphocyte Count; the most Sensitive Indicator of the Risk of Progression and Complications in COVID-19
Keywords:
COVID-19, CD3 , CD4 CD8 count, Lymphocyte count
Abstract
Objective: To explore the role of lymphocyte count as a predictor of severity biomarkers in COVID-19 patients.
Study Design: Comparative cross-sectional study.
Place and Duration of Study: Pak Emirates Military Hospital, Rawalpindi Pakistan, from Sep 2020 to Jan 2021.
Methodology: A total of 120 patients were enrolled for this study. We analyzed the blood samples of the affected patient in a certified laboratory. From blood samples, we deduced information related to leucocyte count, neutrophils, lymphocyte (cells×109/L) counts, ferritin (ng/mL), CRP (mg/dL), d-Dimer (mg/mL), lactate dehydrogenase (LDH, U/L) and lymphocyte subsets.
Results: In critical condition cases, we observed a massive decrease in CD3+CD4+T cell count by 49% (278+124.53 vs 545+138.32), CD4+/CD8+ratio by 30% (0.72+0.14vs1.00+0.04) and CD4+MFI by 17% (21834+1150.03 vs 26287+920.86) as compared to the Non-Critical Group (p-value<0.001). Comparatively, the ferritin and LDH levels were high in the Critical Group (p-value <0.001).
Conclusion: After the results, our study concluded that lymphocyte count plays a vital role in the early determination of COVID infection. We observed that a decrease in CD8+ count highly contributes to the severity of COVID-19.
Downloads
Download data is not yet available.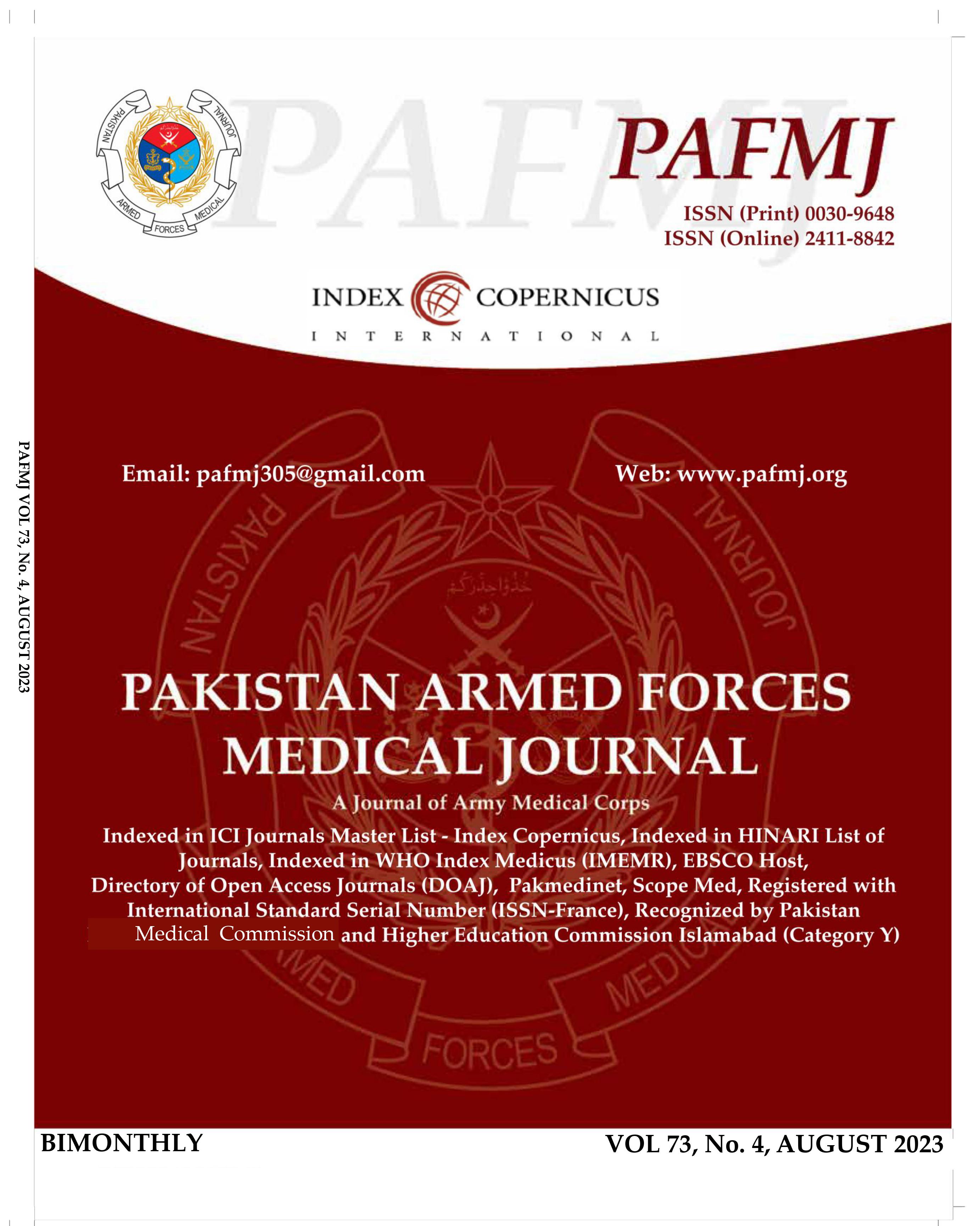 Downloads
How to Cite
Ali, K., Nawaz, K. H., Ul Hassan, W., & Waqar, R. M. (2023). Absolute Lymphocyte Count; the most Sensitive Indicator of the Risk of Progression and Complications in COVID-19. Pakistan Armed Forces Medical Journal, 73(4), 1116–1119. https://doi.org/10.51253/pafmj.v73i4.6705
Section
Original Articles