Outcomes of Allogeneic Stem Cell Transplant in Chronic Myeloid Leukaemia - A Single-Centre Experience from Pakistan
Keywords:
Bone marrow transplantation, Chronic myeloid leukaemia (CML), Conditioning regimen, Survival analysis
Abstract
Objective: To determine indications and outcomes of stem cell transplant in Chronic Myeloid Leukemia in a tertiary care centre in Pakistan. 
Study Design: Retrospective longitudinal study
Place and Duration of Study: Armed Forces Bone Marrow Transplant Center, Rawalpindi Pakistan, from Jan 2002 to Jan 2019.
Methodology: Retrospective analysis of all the patients who had undergone transplants for chronic myeloid leukaemia at our centre from 2002 to 2019 was done. Cases enrolled included patients of both genders and any age for whom data related to disease status and follow-up post-transplant was available. Patients with incomplete records and follow-ups were excluded from the study.
Results: Out of 73 patients, data from 53 patients was analyzed. At a median follow-up of 40 months, overall survival was 72%. Survival in patients <40 years was better (78%) compared to the >40 years (50%). Among the three conditioning regimens, Bu16Cy120 was the most commonly used (n=35, 66%) and had better overall survival (n=29, 83%) though statistical significance could not be established (p=0.172).
Conclusion: In addition to the established indications of resistance or intolerance to tyrosine kinase inhibitors for bone marrow transplant in CML, the non-availability/ affordability, young age, and lack of access to novel drugs can be included in underdeveloped countries like Pakistan.
Downloads
Download data is not yet available.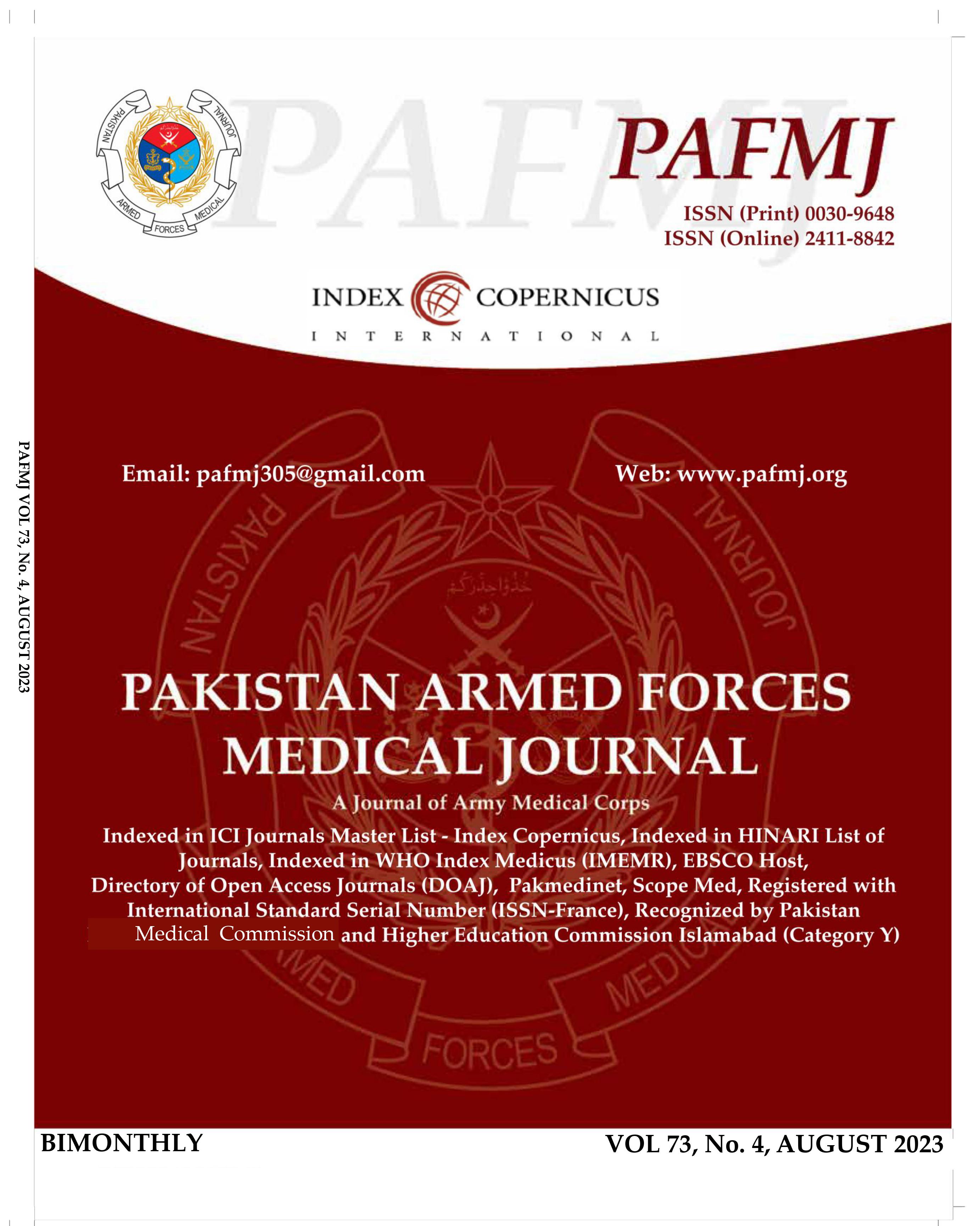 Downloads
How to Cite
Rehman, J., Hussain, F., Chaudhry, Q. un N., Mehmood, S. K., Khan, M. A., & Shahbaz, N. (2023). Outcomes of Allogeneic Stem Cell Transplant in Chronic Myeloid Leukaemia - A Single-Centre Experience from Pakistan. Pakistan Armed Forces Medical Journal, 73(4), 964–967. https://doi.org/10.51253/pafmj.v73i4.6857
Section
Original Articles