Role of Subcutaneous Bilirubinometre in the Evaluation of Bilirubin Level in Neonatal Jaundice
Keywords:
Neonatal jaundice, Risk factors, Transcutaneous bilirubinometre
Abstract
Objectives: To record the demographic features of neonates presenting with jaundice, identify their cause, and co-relate bilirubin levels obtained by subcutaneous bilirubinometre with a standard biochemical method.
Study Design: Cross-sectional study
Place and Duration of Study: Nursery of Combined Military Hospital, Malir Cantt Karachi, from Jul to Dec 2020.
Methodology: A total of 100 cases of neonatal jaundice were enrolled using a systematic random sampling technique. The demographic data of enrolled neonates and risk factors for jaundice were recorded. Their bilirubin levels were recorded using transcutaneous bilirubinometre (TCB) JH-2. Serum bilirubin levels were analyzed at the same time and recorded.
Results: Out of 100 neonates, 61(61 %) were male. Risk factors for jaundice included exaggerated physiological 70(70%), prematurity 11(11%), Rh incompatibility 9(9%), G6PD deficiency 5(5%). For all weight ranges, mean TCB values significantly correlated with mean serum bilirubin level (p-value <0.001) with a co-relation coefficient of 0.683 and device reliability of 74%.
Conclusion: Transcutaneous bilirubinometre can be considered a reliable tool to assess bilirubin for screening neonatal jaundice in term and pre-term neonates.
Downloads
Download data is not yet available.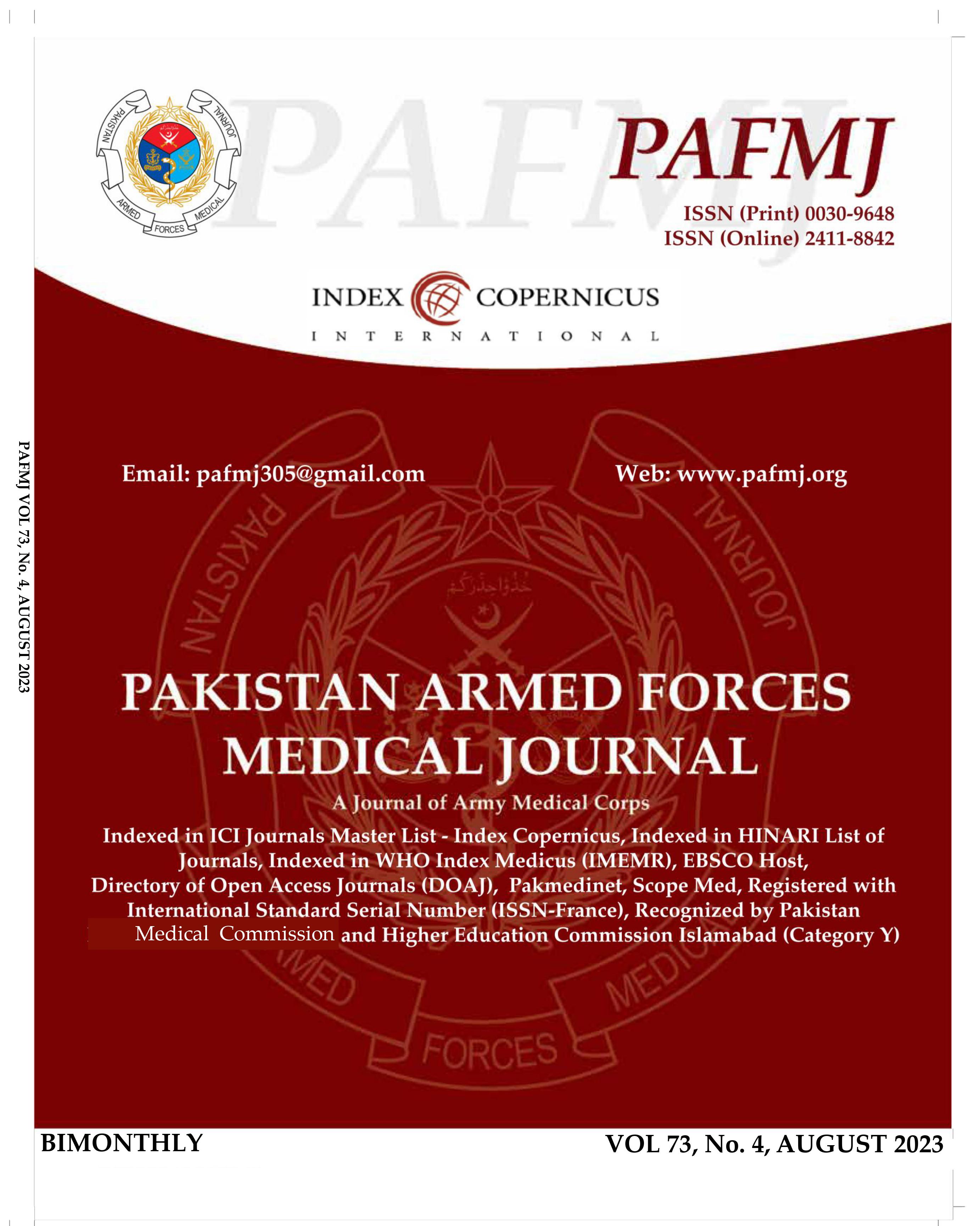 Downloads
How to Cite
Maqsood, A., Zaidi, S. T. H., Saba, A., Shujaat, W., Fatima, B., & Rao, B. (2023). Role of Subcutaneous Bilirubinometre in the Evaluation of Bilirubin Level in Neonatal Jaundice. Pakistan Armed Forces Medical Journal, 73(4), 1016–1019. https://doi.org/10.51253/pafmj.v73i4.7027
Section
Original Articles