MEDICAL ERROR, PERSISTENT VEGETATIVE STATE AND OVER NINETEEN LONG YEARS OF MEDICAL CARE
Zahid Farooq Baig

Combined Military Hospital Peshawar/National University of Medical Sciences (NUMS) Pakistan

Aslam Khan

Combined Military Hospital Peshawar/National University of Medical Sciences (NUMS) Pakistan

Ibrar Hussain Zaidi

Combined Military Hospital Peshawar/National University of Medical Sciences (NUMS) Pakistan

Muhammad Azmat Khan

Combined Military Hospital Peshawar/National University of Medical Sciences (NUMS) Pakistan

Muhammad Salman Ashra

Combined Military Hospital Peshawar/National University of Medical Sciences (NUMS) Pakistan
Keywords:
Chronic kidney disease, Long term care, Medical error, Persistent vegetative state
Abstract
A medical error is a preventable adverse effect of medical care. Errors can happen in the hospital at the doctor's office, at the pharmacy, laboratory and ward. These can also occur at home by the patient or the attendant. These errors may lead to death or major/minor injuries or can also be harmless. However these should be recorded, analysed and remedial measures implemented to reduce the risk of being committed in the future. We are reporting the medical care of our patient in persistent vegetative state over nineteen years due to medical error at our hospital resulting in brain anoxia. The key issues faced during the care were recurrent respiratory and urinary tract infections and in last one year kidney calculi leading to chronic kidney disease and its complications. There are no contractures or thrombo-embolic events and above all no bed sore over this period.
Downloads
Download data is not yet available.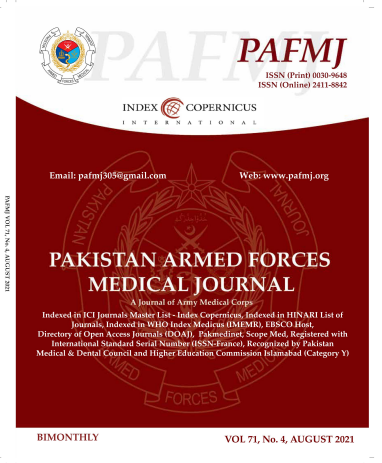 How to Cite
Baig, Z., Khan, A., Zaidi, I., Khan, M., & Ashra, M. (2021). MEDICAL ERROR, PERSISTENT VEGETATIVE STATE AND OVER NINETEEN LONG YEARS OF MEDICAL CARE. PAFMJ, 71(4), 1504-07. https://doi.org/10.51253/pafmj.v71i4.7307