Prognostic Factor of Outcome in Adults with Altered Mental Status Presenting in Emergency Department
Keywords:
Altered mental status, Mean blood pressure, Prognosis
Abstract
Objective: To determine the prognostic factors which affect the outcome and mortality in patients of Altered Mental Status at the emergency department.
Study Design: Cross sectional study.
Place and Duration of Study: Emergency Department of Combined Military Hospital, Rawalpindi Pakistan, from Dec 2020 to June 2021.
Methodology: A total 90 patients were selected with the age range of 18-75 years who met the inclusion and exclusion criteria. Patients with prior history of trauma, dementia or any other mental illness were excluded. Patient's complete history and examination was performed by emergency physician. Base lines investigations along with other required tests were
performed and analysis of data was done to conclude the prognostic factors.
Results: There were 50(55.5%) males and 40(44.5%) females. Mean age of patients was 52.64±3.21 years. Cerebrovascular
events 28(31.1%) patients were the leading cause of AMS followed by infections which causes AMS in 14(15.5%) patients.
23(25.5%) patients had died during their hospital stay. The mean PH in Group-A was 7.36±0.06 while in Group-B it was
7.30±0.10, The oxygen saturation was 96.77±3.34% in Group-A while 93.52±7.06% in Group-B and TLC levels were 9.31±4.52 mg/dl in Group A while in group B they were 15.23±4.82 mg/dl which were statistically significant (p-value 0.001).
Conclusion: It is concluded that patients of stroke and cardiovascular diseases had higher mortality rate. Male gender, pH,
TLC, mean blood pressure, GCS, and SaO2 were also associated with the increased mortality rate.
Downloads
Download data is not yet available.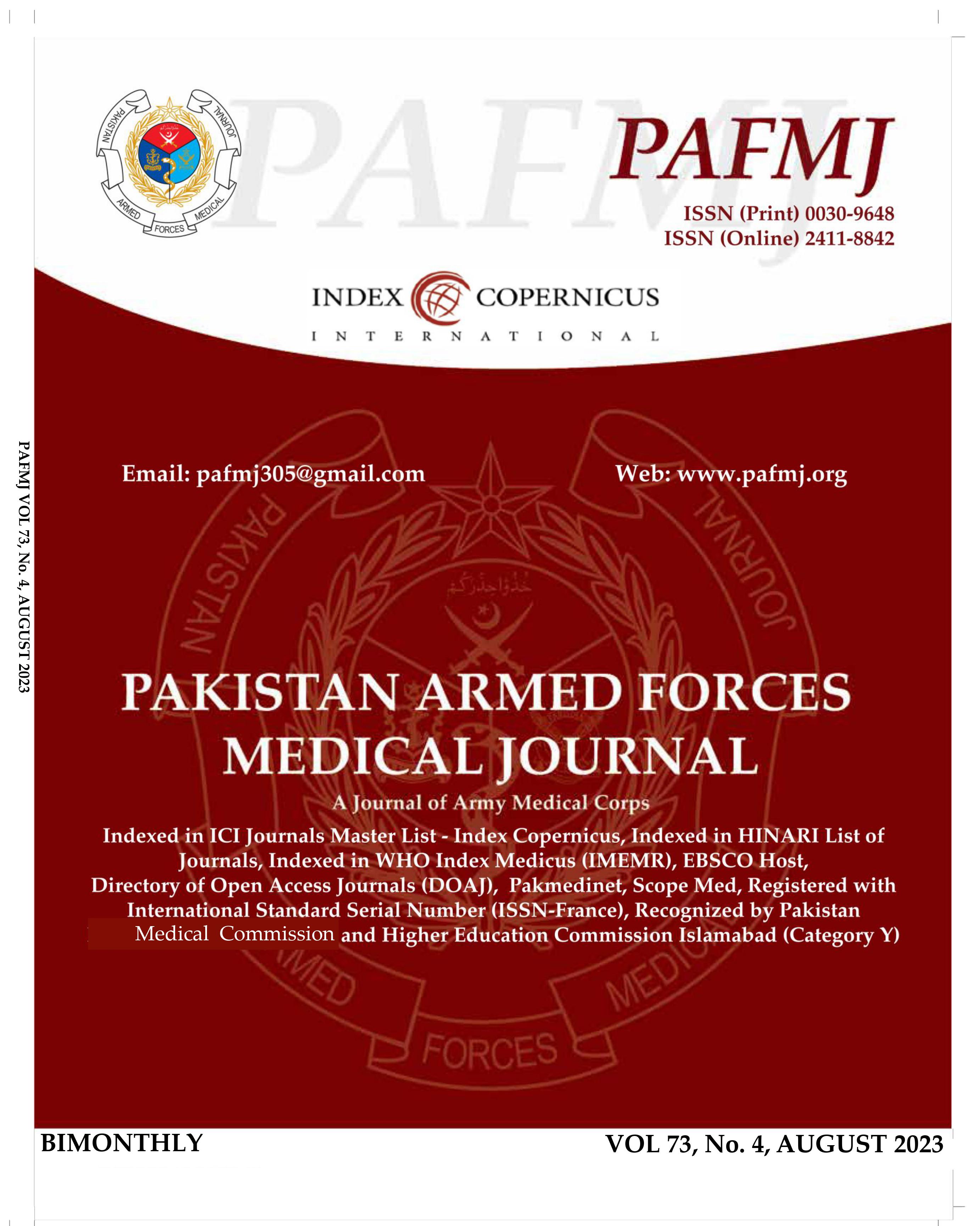 Downloads
How to Cite
Batool, S. N., Syeda Fatima Zareen, Syeda Kiran Batool, Fahim Liaqat, Zeeshan Munir, & Syed Waqar Abbas. (2023). Prognostic Factor of Outcome in Adults with Altered Mental Status Presenting in Emergency Department. Pakistan Armed Forces Medical Journal, 73(4), 1208–1211. https://doi.org/10.51253/pafmj.v73i4.7338
Section
Original Articles