COVID-19 VACCINE BREAKTHROUGH INFECTIONS AMONG HEALTH CARE WORKERS IN MILITARY INSTITUTES OF PAKISTAN – TILL 30TH JUNE 2021
Keywords:
Breakthrough infections, COVID-19 vaccine, COVID-19, Health care workers, Vaccine
Abstract
Objective: To measure incidence of COVID-19 vaccine breakthrough infections among health care workers vaccinated with both doses of Sinopharm Vaccine.
Study Design: Prospective cohort study.
Place and Duration of Study: All Military Institutes of Pakistan, from Feb to Jun 2021.
Methodology: Detailed surveillance mechanism was developed before the start of Health Care Workers vaccination in Pakistan Military to report any PCR positive COVID-19 infection post vaccination. Among 39512 health care workers vaccineted with both doses of COVID-19 vaccine; those who developed COVID-19 infection ≥14 days post 2nd dose were included in the study. Total 124 participants till 30 Jun 2021 fulfilled the criteria of COVID-19 vaccine breakthrough infection and were analyzed.
Results: Mean age of the participants was 38.8 ± 11 years. Males were 69.4% while females were 30.6%. Median duration from 2nd dose to development of COVID-19 vaccine breakthrough infection was 36.5 days (IQR, 26-62). Asymptomatic/mild infections were reported among 94.4% and only 5.6% had moderate disease. No severe/critical disease requiring oxygen supplementation or ventilator support was observed. Recovery rate was 100% with no mortality. There was no significant statistical association of age, gender, job category with COVID-19 vaccine breakthrough infection (p>0.05).
Conclusion: Vaccines remain an important weapon in the battle against COVID-19. No vaccine is 100% effective against all strains of COVID-19; however among the completely vaccinated health care workers less severe disease was observed. There was no mortality.
Downloads
Download data is not yet available.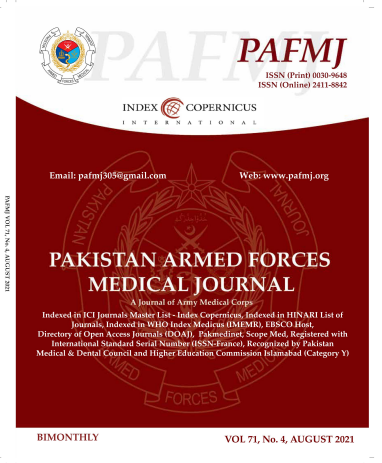 Downloads
How to Cite
Maroof, S., Bakht, N., Saleem, S., Nisar, S., Rashid, Z., Mansoor, E., & Iftikhar, A. (2021). COVID-19 VACCINE BREAKTHROUGH INFECTIONS AMONG HEALTH CARE WORKERS IN MILITARY INSTITUTES OF PAKISTAN – TILL 30TH JUNE 2021. Pakistan Armed Forces Medical Journal, 71(4), 1471–75. Retrieved from https://www.pafmj.org/PAFMJ/article/view/7343
Section
Original Articles