Surgical Excision: An Effective Modality for Intradermal Melanocytic Nevus
Keywords:
Fusiform excision, Intradermal melanocytic nevus, Visual analogue scale
Abstract
Objective: To evaluate the effectiveness of fusiform surgical excision of intradermal melanocytic nevus and to document the aesthetic outcome of post-excisional surgical scar.
Study Design: Prospective longitudinal study.
Place and Duration of Study: Tertiary Care Hospital, Gujranwala Pakistan, from Apr to Oct 2021.
Methodology: Patients with intradermal melanocytic nevus were enrolled after informed consent. Close-up photographs of the nevus and the site post-excision were taken. Local anaesthesia was injected with 2% Lignocaine with Adrenaline under aseptic measures. An elliptical incision with scalpel blade-15 was made around the nevus. The length of the incision was almost three times its width. Nevus and the involved tissue were removed to its full depth. A visual analogue scale was used to assess the scar cosmesis.
Results: A total of 37 intradermal melanocytic nevi, were included in the study. The size of the intradermal melanocytic nevus ranged from 0.5-2cm with a duration of 3-10 years. The mean visual analogue scar scale on day 5 of surgical excision was 7.23±1.423, and on day seven was 5.37±0.575. Surgical sutures were removed on day 5 in 13(35.1%) cases and day-7 in 24(64.9%) cases.
Conclusion: Surgical excision is an effective treatment modality for intradermal melanocytic nevus.
Downloads
Download data is not yet available.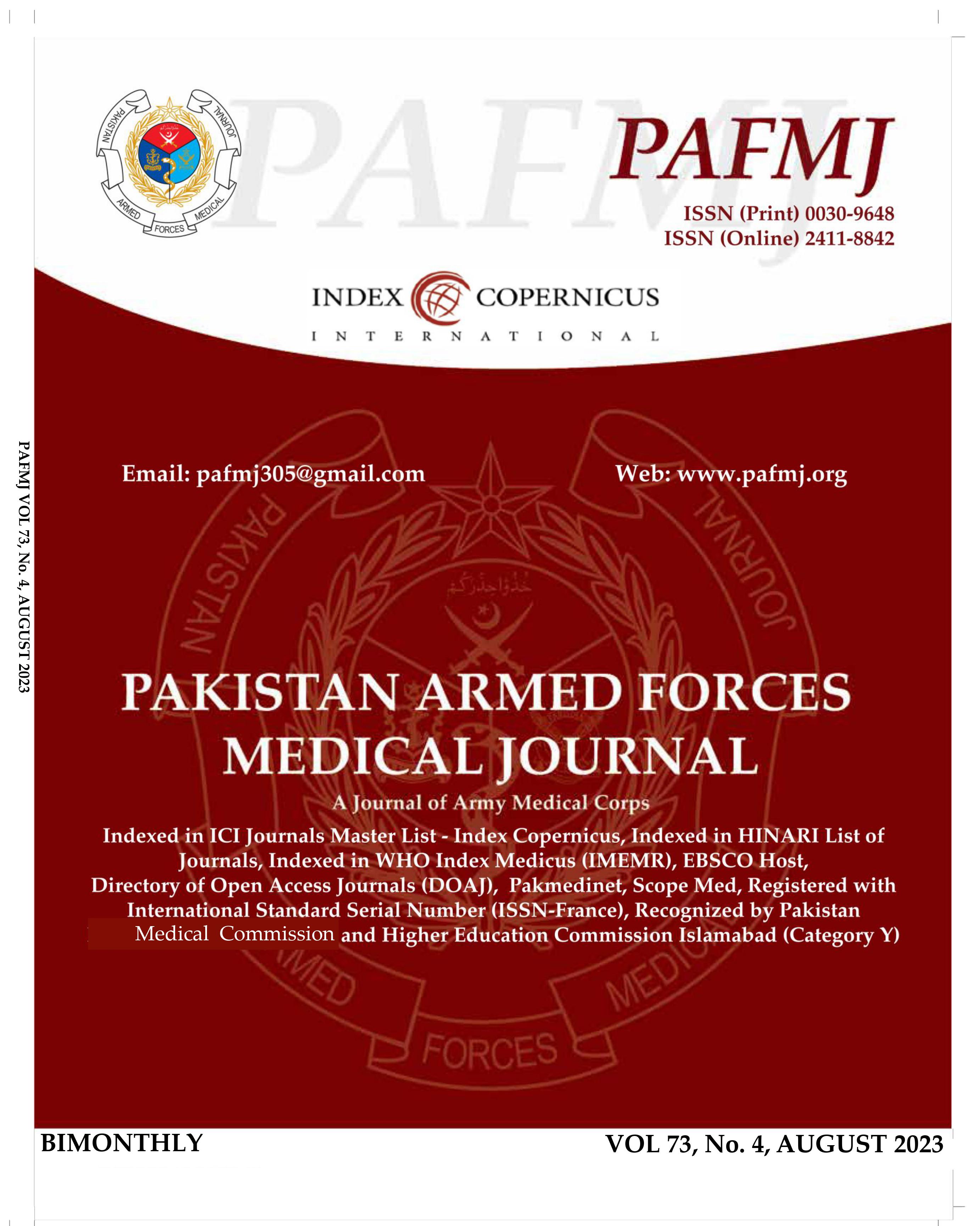 Downloads
How to Cite
Tahir, M., Ahmed, N., Javaid, S., Malik, S., Rahman, A., & Iqbal, S. (2023). Surgical Excision: An Effective Modality for Intradermal Melanocytic Nevus. Pakistan Armed Forces Medical Journal, 73(4), 1008–1011. https://doi.org/10.51253/pafmj.v73i4.7672
Section
Original Articles