A Survey of Growth Hormone Stimulation Test Efficacy for Workup of Short Stature in a Referral Laboratory
Keywords:
Growth hormone stimulation tests, Short stature, Height percentile
Abstract
Objective: To assess growth hormone (GH) stimulation test efficacy in short stature workup for establishing GH deficiency.
Study Design: Cross-sectional survey.
Place and Duration of Study: Diagnostic Endocrine Section, Department of Chemical Pathology & Endocrinology, Armed Forces Institute of Pathology (AFIP), Rawalpindi Pakistan, from Aug 2020 to Jan 2021.
Methodology: The study was conducted on 129 individuals aged 2-16 years. History, axiological data and biochemical parameters were assessed to establish GH deficiency for short stature workup.
Results: Out of 129 individuals, 76(59%) boys and 53(41%) girls reported GH stimulation tests. 81(62.3%) children were in <3rd percentile, 29(22.3%) in <5th percentile, 9(6.9%) in <10th percentile and 5(3.8%) in <25th percentile. Among the group with bone age difference >2 years, 34(82.9%) fell in <3rd percentile. GH Stimulation test post-Levo Dopa was performed in 102(78.46%) patients. 49(37.4%) patients responded inadequately to the GH stimulation test. The adequate response to the GH Stimulation test improved as the percentile declined from the 50th to the 3rd percentile.
Conclusion: GH stimulation test results can only partially rely upon though their importance remains in combination with other short-stature workup parameters for ruling out growth hormone deficiency. 
Downloads
Download data is not yet available.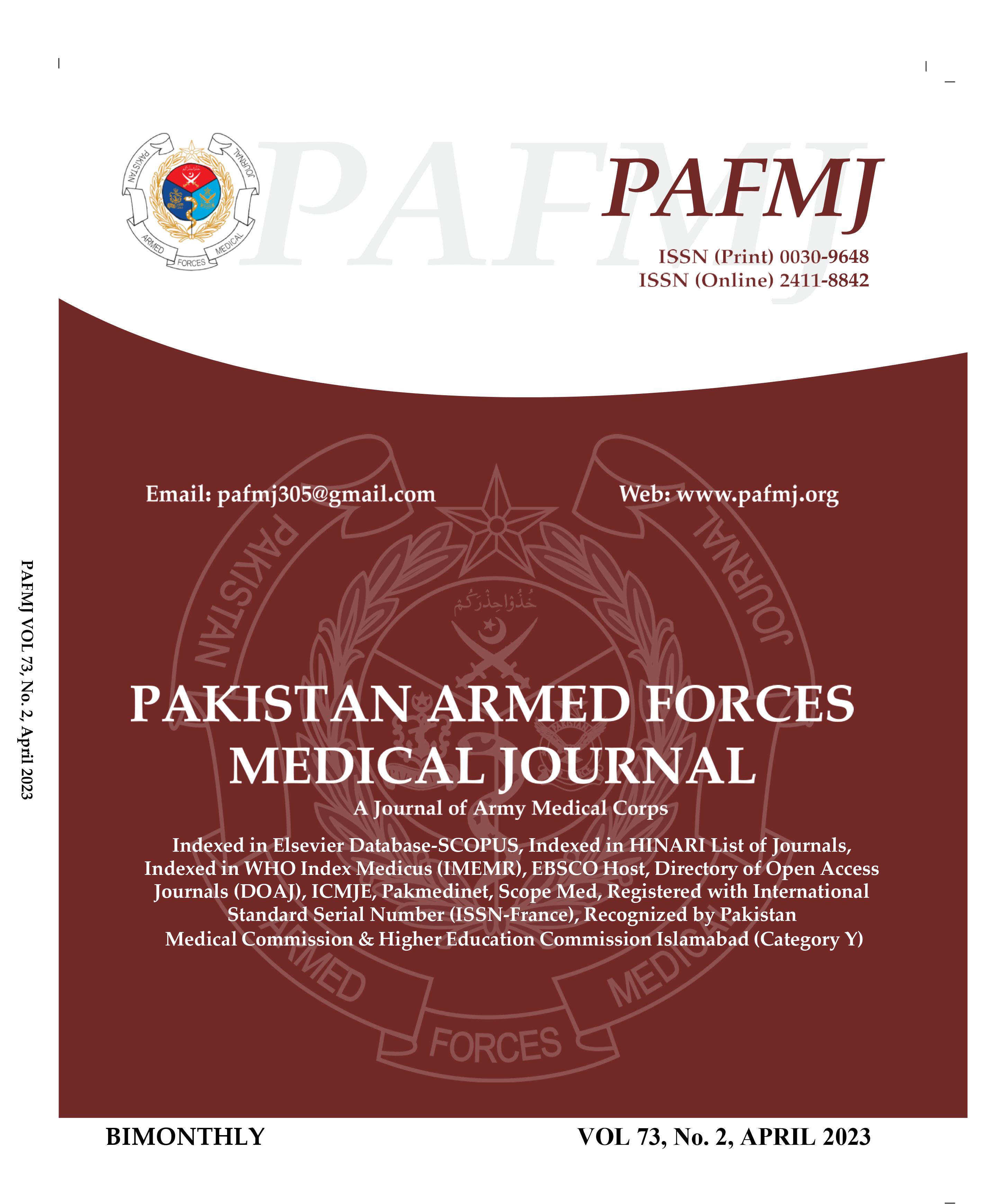 Downloads
How to Cite
Munir, M. U., Aamir, M., Haroon, Z. H., Kirmani, S. I., Yasir, A., & Habib, H. (2023). A Survey of Growth Hormone Stimulation Test Efficacy for Workup of Short Stature in a Referral Laboratory. Pakistan Armed Forces Medical Journal, 73(2), 477–80. https://doi.org/10.51253/pafmj.v73i2.7906
Section
Original Articles