Acute Kidney Injury in Neonates who Develop Asphyxia at the Time of Delivery
Keywords:
Acute kidney injury, Birth asphyxia, Infant mortality
Abstract
Objective: To determine the frequency of acute kidney injury in neonates who develop asphyxia at delivery.
Study Design: Cross-sectional study.
Place and Duration of Study: Department of Paediatrics, Pak-Emirates Military Hospital, Rawalpindi Pakistan, Aug 2021 to Feb 2022.
Methodology: This study was based on 69 patients diagnosed with birth asphyxia on the basis of APGAR score at 5 minutes. Patients underwent testing for serum creatinine levels at 24 hours post-delivery, as well as the monitoring of urine output, and acute kidney injury was classified according to the KDIGO classification, based on the increase in serum creatinine levels and urine output.
Results: Acute kidney injury was observed in 12(17.4%) cases and 3(4.3%) neonates died. Lower gestational age at birth was associated with acute kidney injury (p=0.038), and acute kidney injury was associated with a higher chance for mortality (p<0.001). Additionally, male infants had a lower head circumference (p=0.001), a lower total body length (p<0.001) and a lower APGAR score at birth (p=0.004) when compared to females. However, they did not appear to have a higher risk for acute kidney injury (p=0.121).
Conclusion: Acute kidney injury following the development of birth asphyxia is a common occurrence in our population efforts should be made to identify pregnancies at risk to mitigate this potentially devastating complication.
Downloads
Download data is not yet available.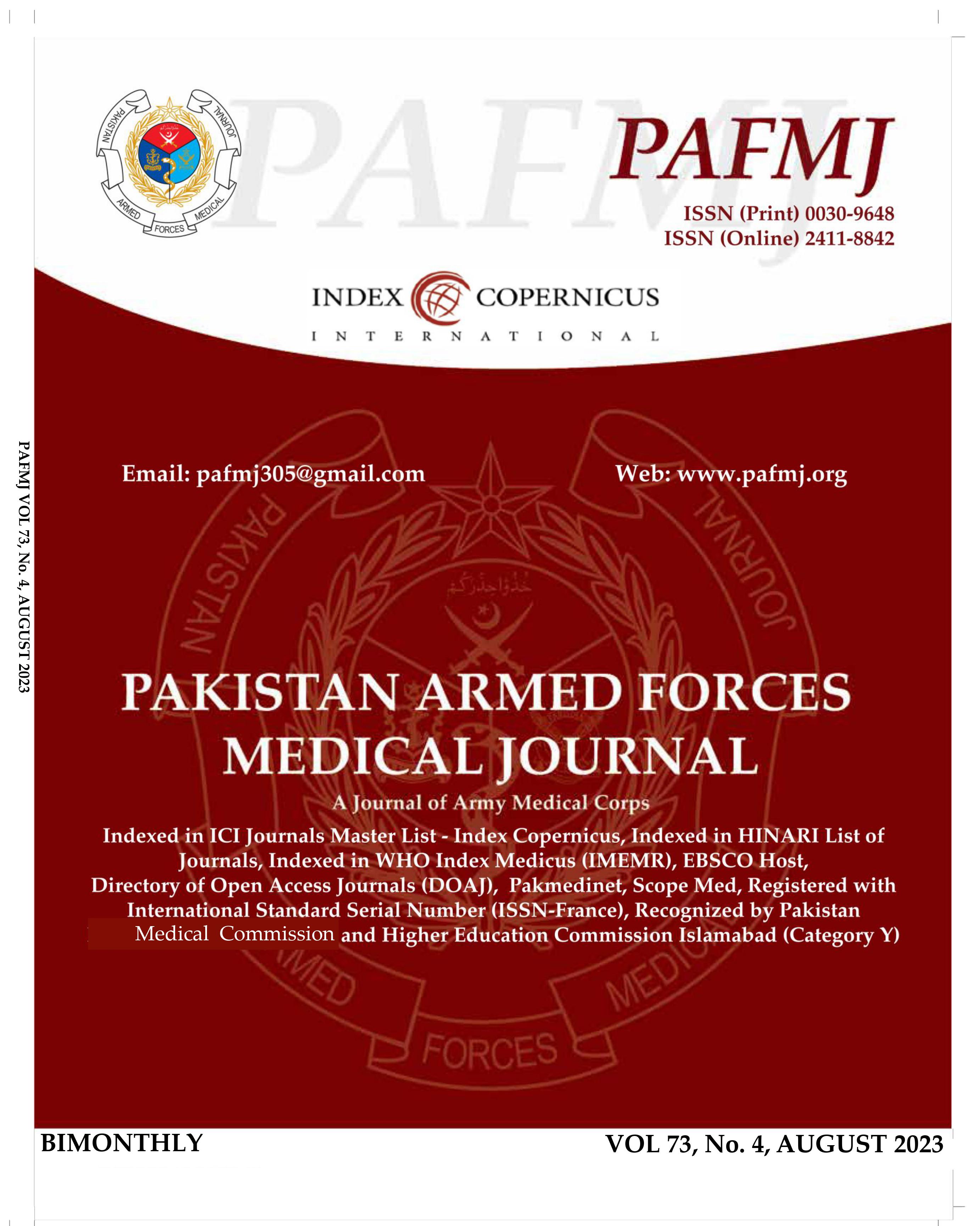 Downloads
How to Cite
Zamir, S., Nadeem, M. T., & Goheer, L. (2023). Acute Kidney Injury in Neonates who Develop Asphyxia at the Time of Delivery. Pakistan Armed Forces Medical Journal, 73(4), 1165–1168. https://doi.org/10.51253/pafmj.v73i4.8988
Section
Original Articles