NON-URGENT VISITS TO EMERGENCY DEPARTMENT AND COMPARISON OF URGENCY EVALUATION BETWEEN PATIENTS AND DOCTORS
Non-Urgent Visits And Urgency
Keywords:
Emergency department, Emergency services, Pakistan.
Abstract
Objective: To assess the proportion of non urgent patients presenting to the emergency department and to
compare urgency evaluation between patients and doctors.
Study Design: Descriptive cross sectional study.
Place and Duration of Study: Emergency department Combined Military Hospital (CMH) Jhelum, from
November 2015 to December 2015.
Material and Methods: All the patients presenting to the emergency department after working hours between 4-6 pm were documented for 16 consecutive working days. They were assessed as to the urgency of their condition by the doctor. The patients or guardians in case of children were also required to rate the level of urgency of their medical condition. The level of urgency was graded on visual analog scale from 0-10. A 5 and above score was labeled as urgent while a score of less than 5 was considered non urgent.
Results: A total of 205 patients reported in 32 hours over 16 days, to the emergency department. Of these 31 (15.12%) were assessed as emergencies by doctors while 49 (24%) were thought to be emergencies by patients.The p-value for this difference was 0.021. The largest group of patients visiting the emergency department was pediatric and they comprised the largest group of non urgent visits to the hospital as well.
Conclusion: Actual emergencies comprise a small proportion of visits to emergency departments while the main bulk consists of non urgent visits.
 ,,
Downloads
Download data is not yet available.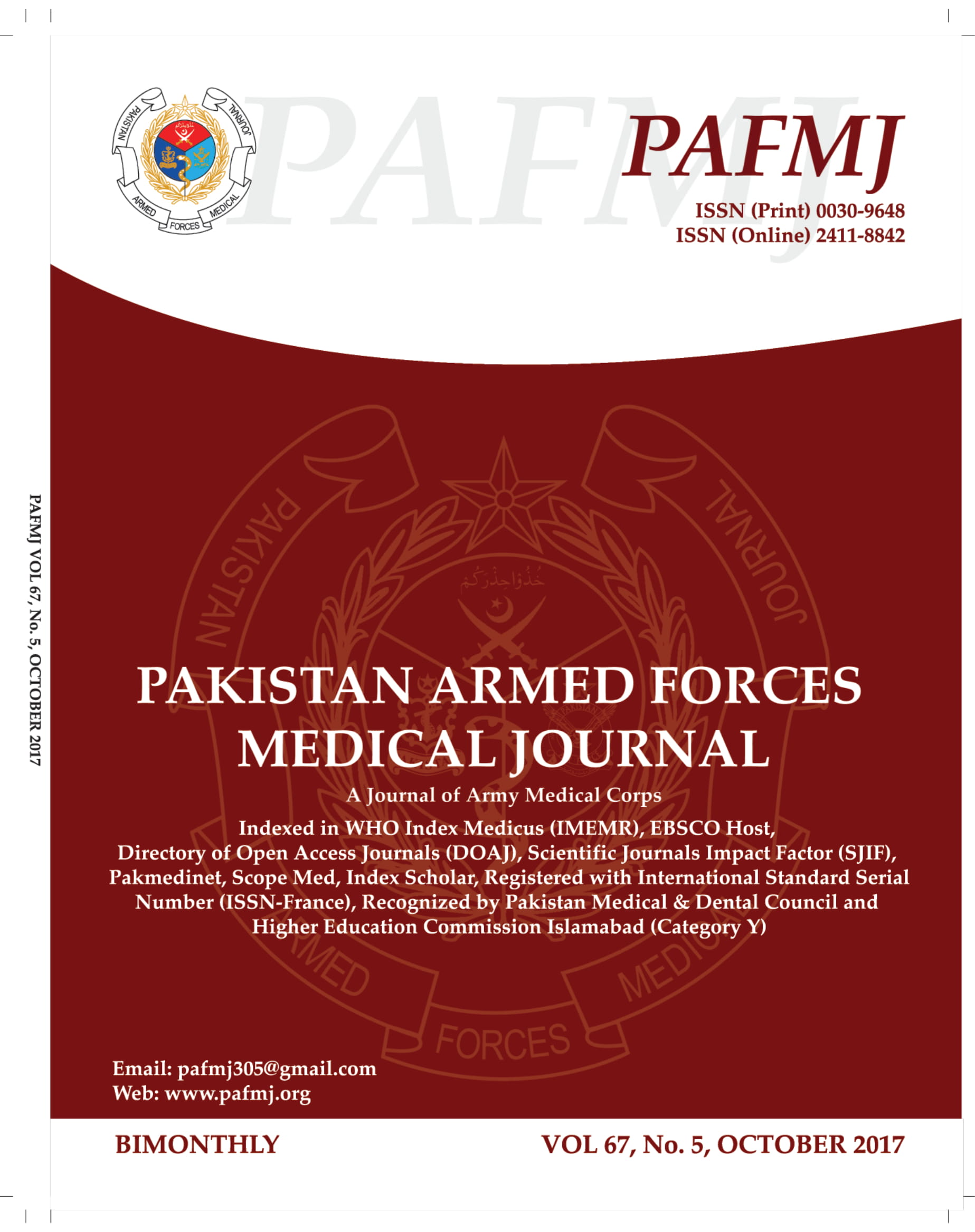 Downloads
How to Cite
Iftikhar, N., Nisar, S., Ghumman, I. A., Iqbal, M., Malik, R., Shakeel, A., … Sajid, A. (2017). NON-URGENT VISITS TO EMERGENCY DEPARTMENT AND COMPARISON OF URGENCY EVALUATION BETWEEN PATIENTS AND DOCTORS: Non-Urgent Visits And Urgency. Pakistan Armed Forces Medical Journal, 67(5), 726–30. Retrieved from https://www.pafmj.org/PAFMJ/article/view/905
Section
Original Articles