WHEAT PILL: CLINICAL CHARACTERISTICS AND OUTCOME
Keywords:
Aluminium phosphide, hypotension, metabolic acidosis, death
Abstract
Objective: To determine the clinical characteristics and outcome in patients presenting with wheat pill poisoning.
Study Design: Retrospective study.
Place and Duration of Study: The study was carried out at the Department of medicine, Combined Military Hospital, Kharian from 1st July 2009 to 30 December 2010.
Methodology: Fifty two patients with wheat pill ingestion were included in the study. All patients' history, symptoms, signs and management data was collected on a pre-designed patient data collection form.
Results: Mean age was 25.10 ± 5.35 years with 51.9% females. Time interval between ingestion of pills and presentation to hospital was 2.5 ± 1.27 hours. Numbers of pills consumed were 2.73±1.20. Most common symptom seen in patients was vomiting seen in 88.5% of the patients. Other common symptoms were irritability in 63.5% and confusion in 55.8% patients. Most common clinical sign observed was hypotension present in 94.2% of patients. It was followed by metabolic acidosis in 88.5% and hypoxia in 75% patients .Overall mortality was 86.5 percent.
Conclusion: Wheat pills are highly toxic with rapid and high mortality rate. These patients develop refractory hypotension and metabolic acidosis which progresses to death. More research is required to develop antidote and to minimize systemic toxicity. Strict legislations are required to control sale of aluminium phosphide over the counter.
Downloads
Download data is not yet available.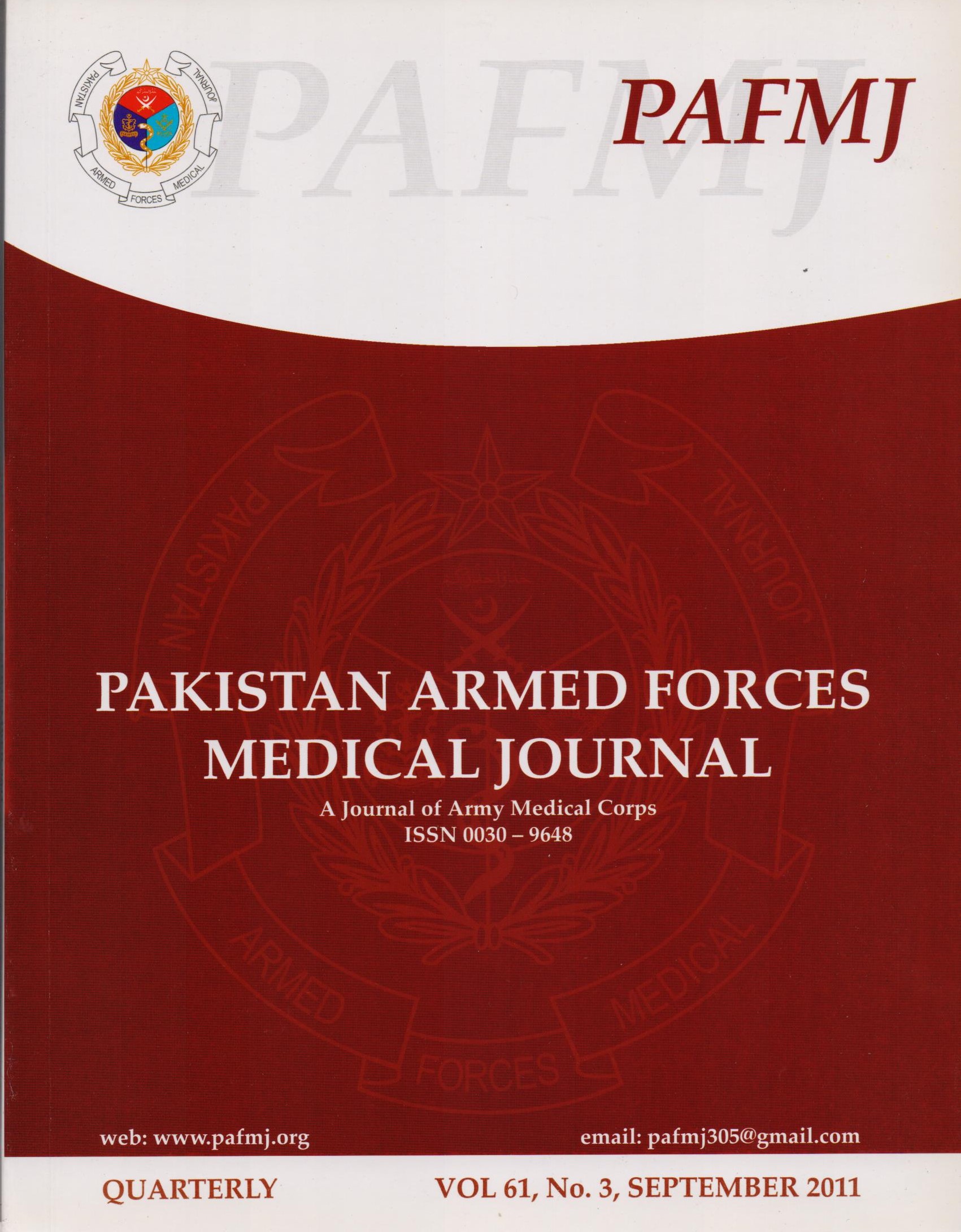 How to Cite
iftikhar, R., Tariq, K. M., Saeed, F., Khan, M. B., & Babar, N. a F. (2011). WHEAT PILL: CLINICAL CHARACTERISTICS AND OUTCOME. Pakistan Armed Forces Medical Journal, 61(3). Retrieved from https://www.pafmj.org/PAFMJ/article/view/909
Section
Original Articles