Association of Smoking with Dental Caries and Periodontal Health Status Among Incarcerated Women in Karachi
Keywords:
CPI index, Dental caries, DMFT, Oral health, Periodontitis, Smoking, tobacco
Abstract
Objective: To assess the association of smoking with dental caries and periodontal health status among incarcerated women in Karachi facility, Sindh, Pakistan.
Study Design: Cross-sectional study.
Place and Duration of study: Department of Community, Sindh Institute of Oral Health Sciences, Karachi Pakistan, from Dec 2021 to Feb 2022.
Methodology: All female inmates between the ages of 18-65 years, serving various jail terms, including those sentenced to life, prisoners condemned to death and awaiting trial, were included in the study. For each participant, dental caries and periodontal status examinations were performed. Dental caries was scored using the DMFT index, while periodontal status was scored using the CPI index. Smoking status (yes or no) and duration of smoking were observed.
Results: Out of 131 women, 76(58%), 42(32.1%), and 13(9.9%) had a DMFT score between 0-5, 6-10, and 11 or higher, respectively. 14(63.6%) and 2(9.1%) women smokers had moderate to severe periodontitis. The association between smoking and severe periodontitis was statistically significant (p=0.023). Employment status prior to incarceration was significantly associated with smoking (p=0.02).
Conclusion: We concluded that the rate of severe periodontitis was higher among incarcerated women who were smokers. Women in prison require regular oral health assessment and increased awareness about oral health management. Smoking was not a significant factor associated with dental caries or periodontal disease.
Keywords: CPI index, Dental caries, DMFT, Oral health, Periodontitis, Smoking, tobacco.
Downloads
Download data is not yet available.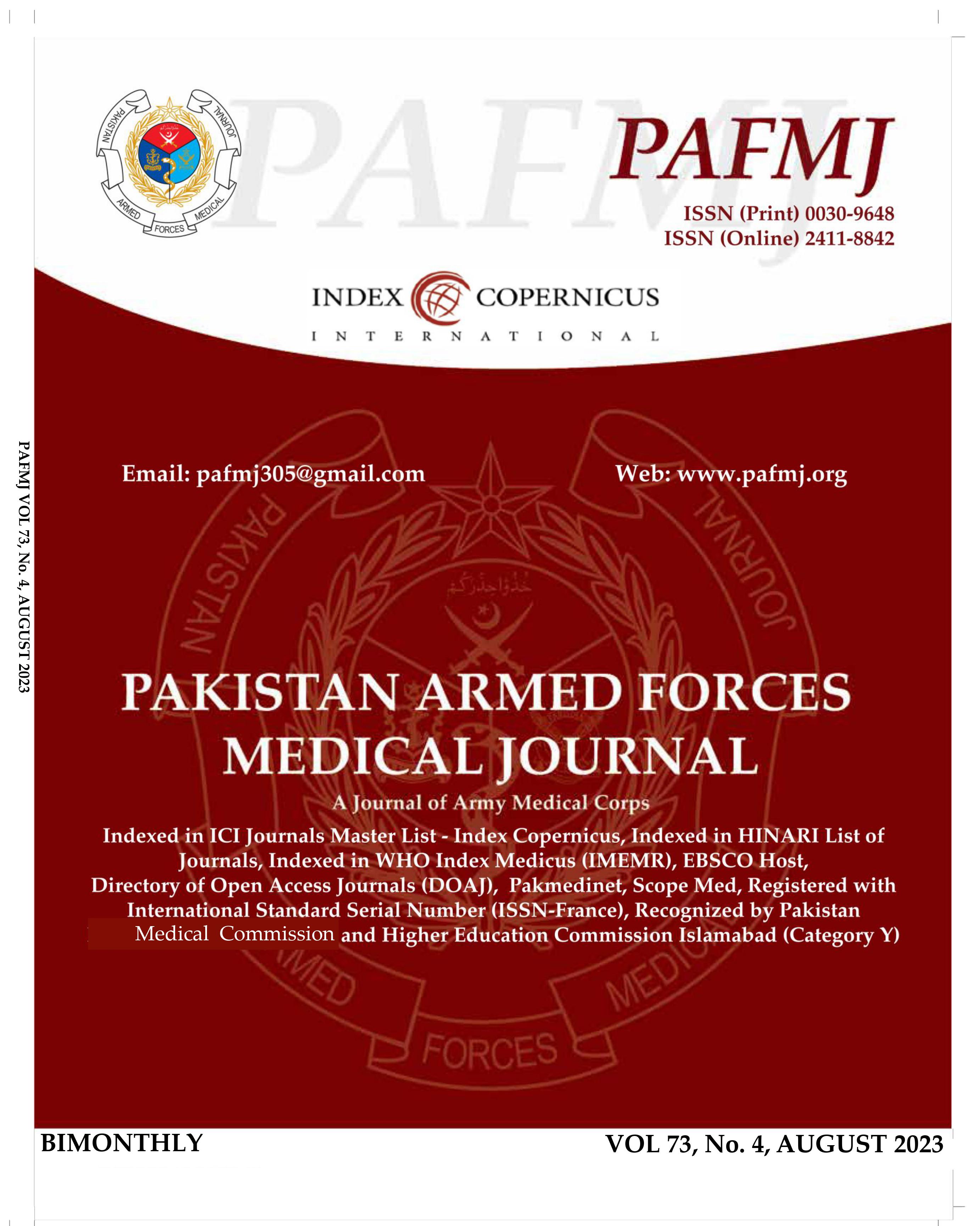 Downloads
How to Cite
Shah, H., Khan, I., Khan, S. U., Kershan, J., Ahmed, S., & Ayaz, S. (2023). Association of Smoking with Dental Caries and Periodontal Health Status Among Incarcerated Women in Karachi. Pakistan Armed Forces Medical Journal, 73(4), 1108–1111. https://doi.org/10.51253/pafmj.v73i4.9241
Section
Original Articles