Clinical Utility of N-Terminal Prohormone B-Type Natriuretic Peptide Levels in Patients of Type 2 Diabetes Mellitus with Heart Failure
Keywords:
Body mass index, Diabetes mellitus, Heart failure, Natriuretic peptides
Abstract
Objective: To evaluate the effect of type 2 diabetes mellitus on plasma N-terminal prohormone B-type natriuretic peptide levels in patients with heart failure and correlate it with glycosylated haemoglobin levels.
Study Design: Comparative cross-sectional study.
Place and Duration of Study: Department of Chemical Pathology in collaboration with the Department of Cardiology,Combined Military Hospital, Multan Pakistan, from Feb to Sep 2021.
Methodology: We assayed plasma NT-pro BNP levels in 194 individuals with established heart failure, (98 non-diabetics, and 96 patients with diabetes). Plasma NT-pro BNP levels were compared between groups in addition, the correlation of glycosylated haemoglobin with plasma NT-pro BNP levels was explored.
Results: The mean plasma NT-pro BNP values were higher in patients with diabetes (15826.08 ±8143.434pg/mL) than in nondiabetics (12534.06±6323.92pg/mL) with a p-value 0.02. When NT-pro BNP was compared there was no significant found difference between the non-diabetic group and the Controlled Diabetes-Group (p-value 0 .882), but it was significantly higher in the Uncontrolled Diabetes-Group (p-value<0.001). A moderate positive association was found between NT-pro BNP and glycosylated haemoglobin (r=0.541, p-value<0.001).
Conclusion: Although obesity has an inverse relation with plasma natriuretic peptides level and most patients with diabetes are overweight, the plasma NT-pro BNP is still a very informative tool and holds its significance as a diagnostic and prognosis marker in diabetic patients with heart failure.
Downloads
Download data is not yet available.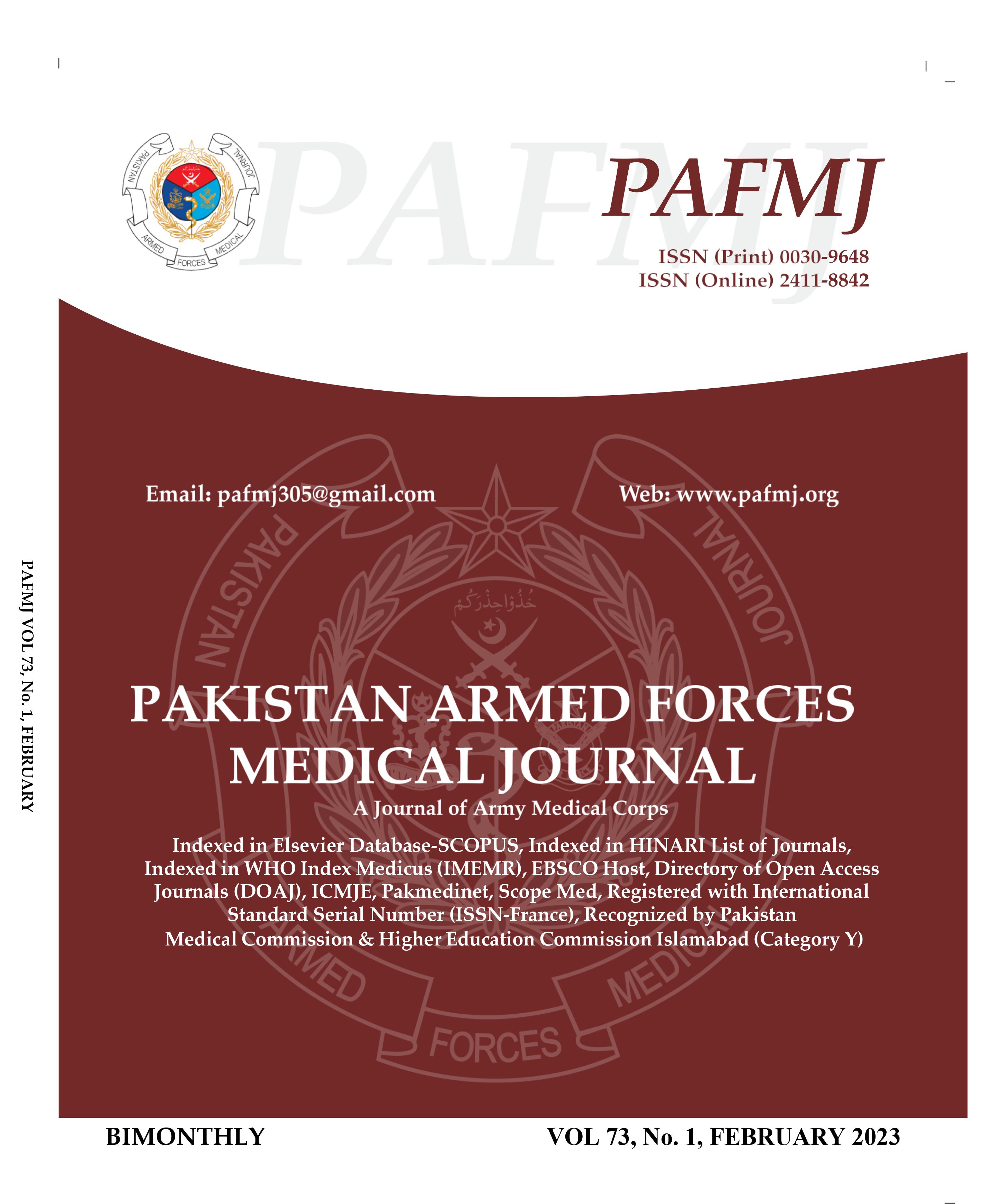 Downloads
How to Cite
Janjua, S. I., Younas, M., Haroon, Z. H., Anwar, M., Munir, M. U., & Yasmeen, F. (2023). Clinical Utility of N-Terminal Prohormone B-Type Natriuretic Peptide Levels in Patients of Type 2 Diabetes Mellitus with Heart Failure. Pakistan Armed Forces Medical Journal, 73(1), 215–18. https://doi.org/10.51253/pafmj.v73i1.9305
Section
Original Articles