COMPARISON OF ULTRASONOGRAPHY WITH COMPUTED TOMOGRAPHY FINDINGS IN EVALUATION OF ABDOMINAL AORTIC ANEURYSM
Evaluation Of Abdominal Aortic Aneurysm
Keywords:
Aortic aneurysm,, Computed tomography, Ultrasonography
Abstract
Objective: To compare ultrasonography (US) and computed tomography (CT) data for evaluation of abdominal aortic aneurysm.
Study Design: Validation study.
Place and Duration of Study: Radiology Department Combined Military Hospital Rawalpindi, from Apr 2006 to Jan 2008.
Material and Methods: This study involved 67 patients. Both ultrasonography and computed tomography were performed on each patient for evaluation of different variables of abdominal aortic aneurysm. Sensitivity,
specificity, positive predictive value (PPV), negative predictive value (NPV), accuracy and p-values were
calculated for all qualitative variables separately. Mean and standard deviation (SD) were calculated for the
quantitative variables.
Results: Ultrasound measurements of abdominal aortic aneurysm were both accurate and reproducible.
The sensitivity and specificity of ultrasonography for abdominal aortic aneurysm were >90% for all attributes,
with minor differences usually resulting from measurement variation rather than failure to distinguish between
large aneurysms and normal aortas.
Conclusion: Ultrasound was equally effective in comparison with computed tomography not only in diagnosing abdominal aortic aneurysm but also in assessing its different attributes.
Downloads
Download data is not yet available.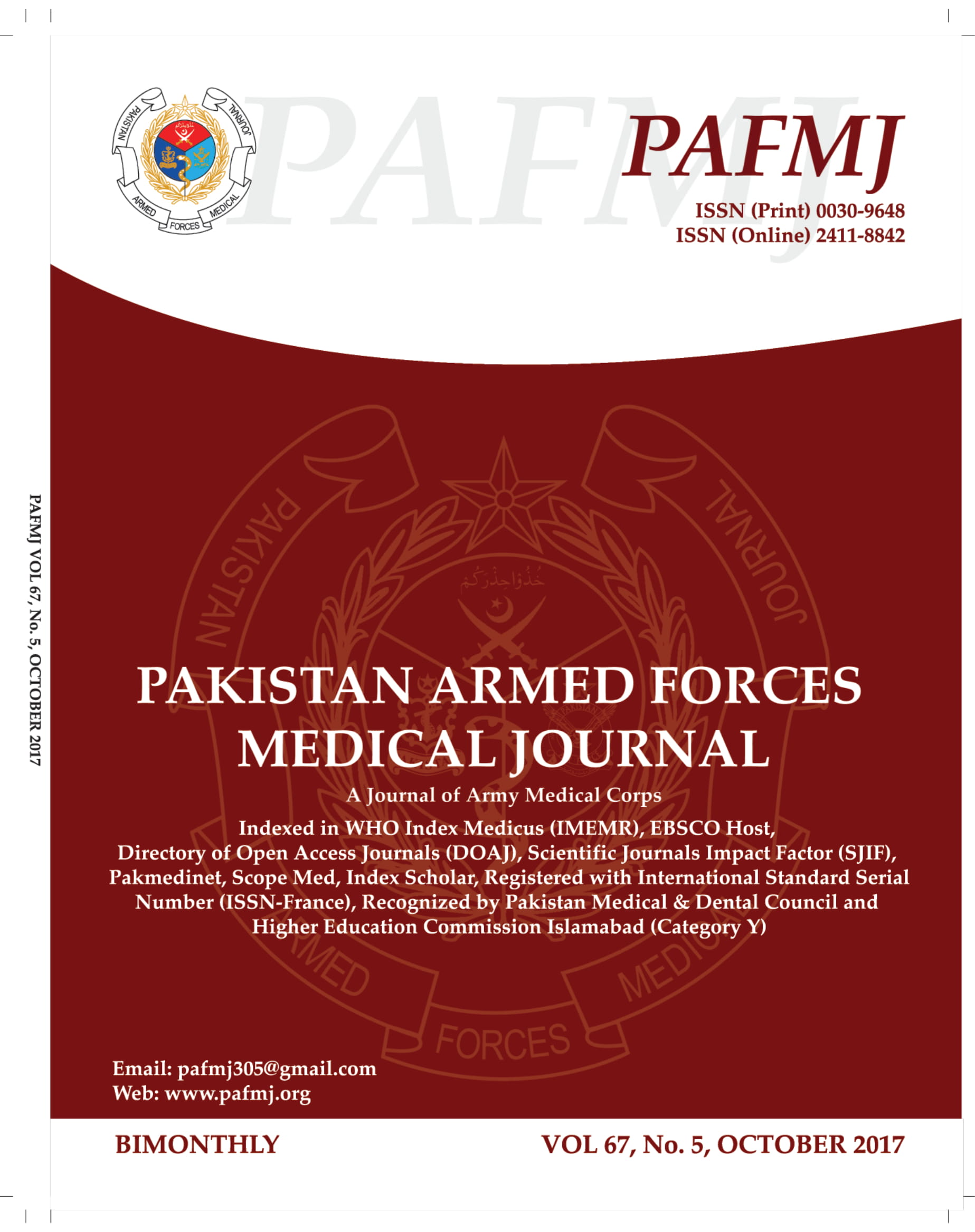 Downloads
How to Cite
Iqbal, O., Qayyum, A., & Ibrahim, N. (2017). COMPARISON OF ULTRASONOGRAPHY WITH COMPUTED TOMOGRAPHY FINDINGS IN EVALUATION OF ABDOMINAL AORTIC ANEURYSM: Evaluation Of Abdominal Aortic Aneurysm. Pakistan Armed Forces Medical Journal, 67(5), 792–97. Retrieved from https://www.pafmj.org/PAFMJ/article/view/954
Section
Original Articles