Spectrum of Intestinal Parasitic Infections in Paediatric Population in A Tertiary Care Hospital
Keywords:
Children, Giardia lamblia, Parasitic infections
Abstract
Objectives: To determine the frequency of parasites detected in stool samples of children with symptoms of parasitic infections.
Study Design: Cross-sectional study.
Place and Duration of Study: Department of Microbiology, Armed Forces Institute of Pathology, in collaboration with Paediatrics Department of Pak Emirates Military Hospital, Rawalpindi Pakistan, from Jan to Jul 2020.
Methodology: A Total of 138 stool samples were collected from children who were admitted or presented in the outdoor department and had symptoms of intestinal parasitic infections. Youngsters who had been dewormed within the previous six months or whose samples arrived at the lab more than three hours after the collection were not included. Stool samples were examined visually and by using a saline preparation followed by a method that involved the concentration of formal ether. This was done to determine the different kinds of trophozoites, adult worms, and eggs or cysts that parasites produce.
Results: The study found that intestinal parasites were moderately prevalent (26.81%) among the pediatric population, with Giardia lamblia (54.05%) being the most frequent, followed by Entamoeba histolytica (35.14%) and Ascaris lumbricoides (5.41%).
Conclusion: It is recommended to guarantee the accessibility of purified drinking water to decrease the incidence of parasitic infections within our populace.
Downloads
Download data is not yet available.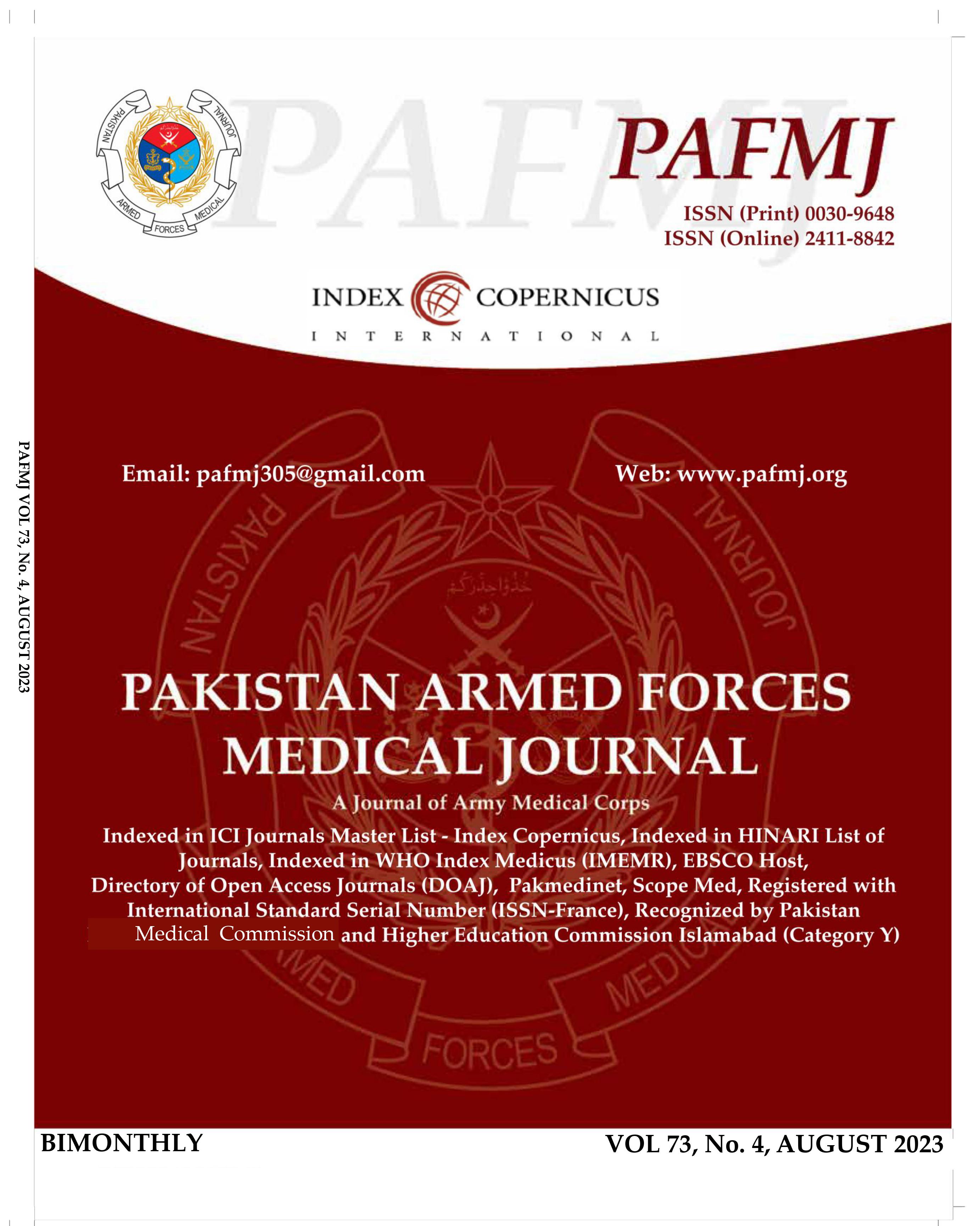 Downloads
How to Cite
Sadiq, I., Mirza, I. A., Khursheed, U., Irfan, R., Sana, F., & Akhtar, M. (2023). Spectrum of Intestinal Parasitic Infections in Paediatric Population in A Tertiary Care Hospital. Pakistan Armed Forces Medical Journal, 73(4), 1112–1115. https://doi.org/10.51253/pafmj.v73i4.9930
Section
Original Articles