Early Pregnancy Fetal Cardiac Activity Detection by Superb Micro-Vascular Imaging (cSMI) Comparing with Color Doppler Ultrasound
Keywords:
Doppler technique, Early pregnancy, Fetal cardiac activity, Superb microvascular imaging
Abstract
Objective: To observe the sonographic advancement of the Doppler technique Superb Microvascular imaging (cSMI) for detecting fetal cardiac activity (FCA) in early pregnancy when not detected on grey scale ultrasound and conventional Doppler.
Study Design: Cross-sectional study.
Place and Duration of Study: Radiology Department and Gynaecological Department, Pakistan Atomic Energy Commission General Hospital in collaboration with Zahoor and Citilab Diagnostics Rawalpindi with a referral from Holy Family Hospital from Mar to Sep 2022.
Methodology: All cases were examined with Toshiba Aplio 300 and 500 ultrasound machines having software of Color Doppler Imaging (CDI), Advance Doppler Flow (ADF) and cSMI were used. Findings of grayscale Doppler including Color Power Doppler (CPD), Advance Doppler Flow (ADF) and cSMI patients with viable fetuses were followed at 2, 4 and 16 weeks and finally after 30 weeks of pregnancy.
Results: A total of 60 cases, 35 cases regarded viable pregnancy by detecting fetal cardiac activity (FCA) by greyscale, colour Doppler, and on cSMI. Five cases of nonviable pregnancies with no FCA on the Doppler cSMI greyscale and 5 cases of the embryonic sac (blighted ovum). Fifteen cases were reported nonviable with no cardiac flicker on the greyscale and no fetal cardiac activity on colour Doppler; however, fetal cardiac activity was detected on cSMI.
Conclusion: It is being concluded that cSMI (Superb Microvascular Imaging) is a new and highly sensitive method of detection of minimal vascular flow, disregarding any surrounding movement.
Downloads
Download data is not yet available.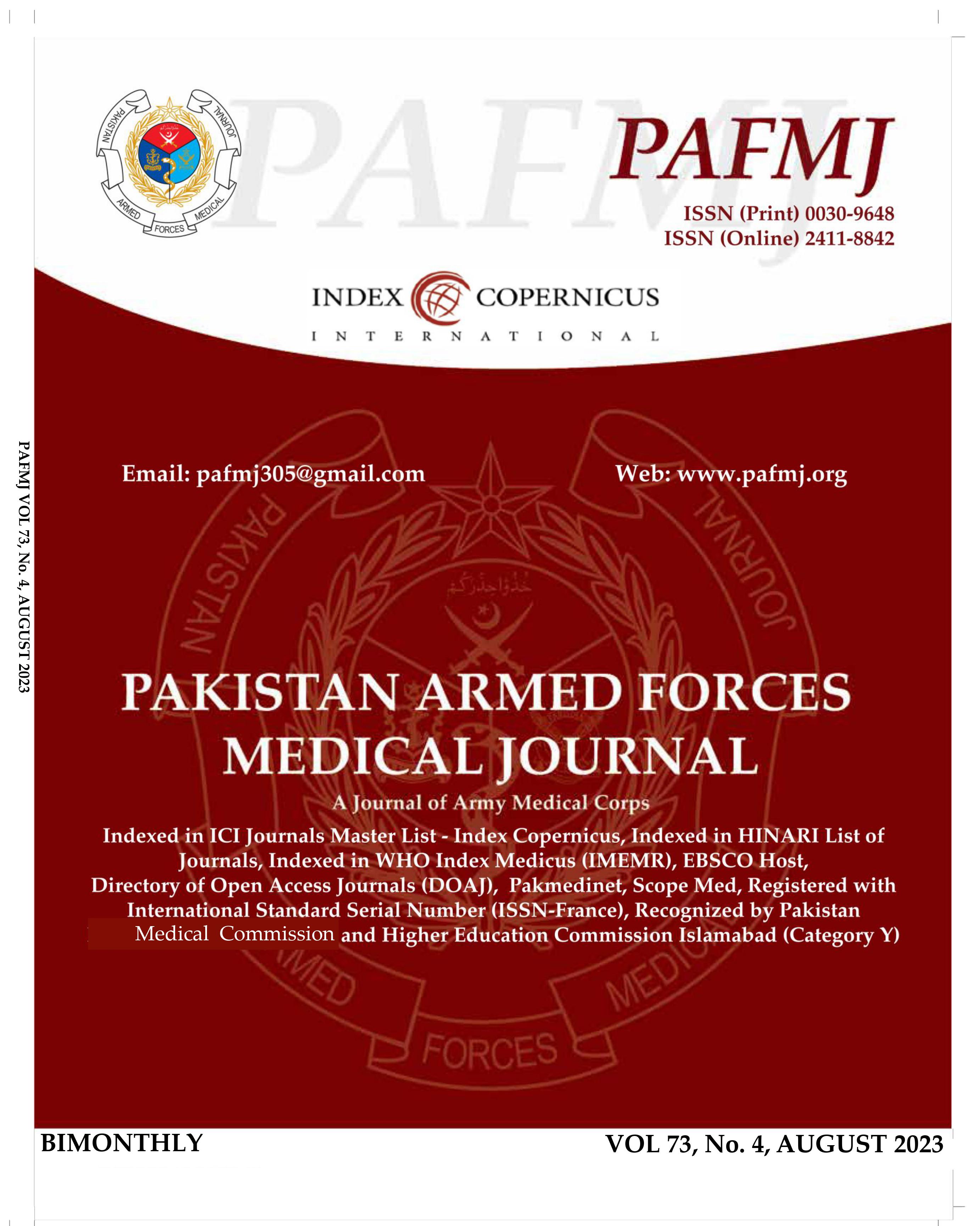 Downloads
How to Cite
Masud, R., Khurshid, F., Jameel, G., & Ashraf, M. (2023). Early Pregnancy Fetal Cardiac Activity Detection by Superb Micro-Vascular Imaging (cSMI) Comparing with Color Doppler Ultrasound. Pakistan Armed Forces Medical Journal, 73(4), 1041–1044. https://doi.org/10.51253/pafmj.v73i4.9979
Section
Original Articles