CORRELATION OF CURVE OF SPEE WITH MAXILLO-MANDIBULAR DISCREPANCY AMONG DIFFERENT MALOCCLUSION GROUPS
Curve of Spee With Maxillo-Mandibular Discrepancy
Mariya Mujib

KRL General Hospital Islamabad Pakistan

Amra Minhas Abid

KRL General Hospital Islamabad Pakistan

*Muhammad Alamgir Khan

*Army Medical College/National University of Medical Sciences (NUMS) Rawalpindi Pakistan
Keywords:
ANB, ,Curve of Spee, , Maxillo-mandibular discrepancy
Abstract
Objective: To assess the depth of curve of Spee (COS) in different malocclusion groups, to relate this to the
maxillo-mandibular discrepancy using ANB, and to determine whether the depth of curve of Spee is affected by maxillo-mandibular discrepancy.
Study Design: Descriptive cross sectional study.
Place and Duration of Study: The study was conducted at KRL General Hospital Orthodontic Department,
from Aug 2017 to Jan 2018.
Material and Methods: One hundred and fifty patients between 18-40 years of age were recruited after filling
data collection pro forma from their initial lateral cephalometric radiographs and initial study models.
Data was recorded in specially made pro forma and analyzed using SPSS 20.0. Analysis included frequencies,
mean ± standard deviation (SD) and Pearson correlation. A p-value <0.001 was considered significant.
Results: Results have established a positive correlation between curve of Spee and ANB values with a highly
significant p-value of <0.001. As the value of ANB increases so does the depth of curve of Spee and vice versa.
Conclusion: There is a significant difference amongst curve of Spee values of class 1, class II and class III
malocclusions which is linearly coherent with ANB values.


Downloads
Download data is not yet available.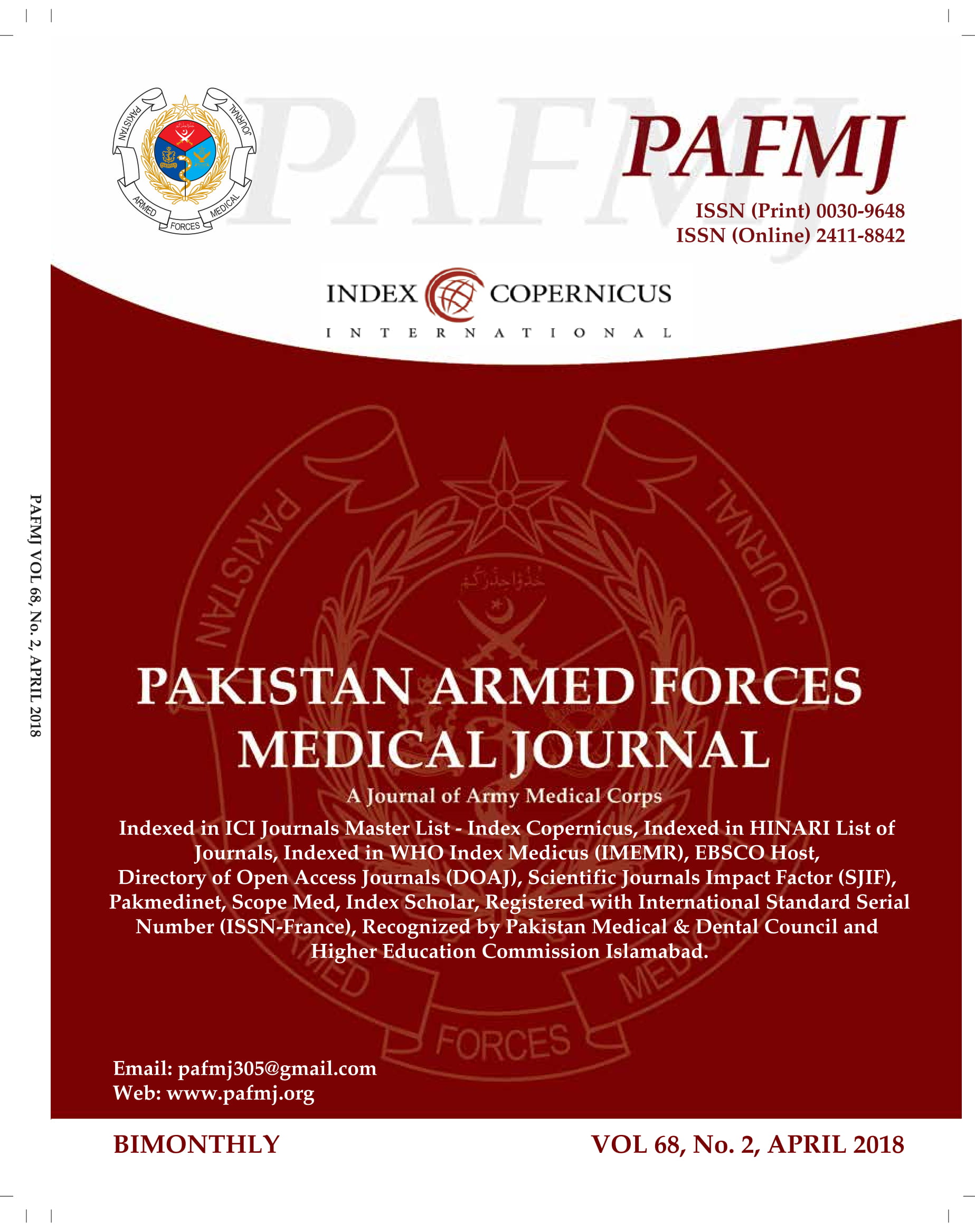 How to Cite
Mujib, M., Abid, A., & Khan, *Muhammad. (2018). CORRELATION OF CURVE OF SPEE WITH MAXILLO-MANDIBULAR DISCREPANCY AMONG DIFFERENT MALOCCLUSION GROUPS. PAFMJ, 68(2), 379-83. Retrieved from https://www.pafmj.org/index.php/PAFMJ/article/view/1482
Section
Original Articles