TRANSULNAR ACCESS FOR CORONARY ANGIOGRAOHY AND INTERVENTION
Keywords:
Coronary catheterization, Transulnar, Transradial.
Abstract
Objective: To assess the safety and efficacy of a transulnar approach for coronary cathetrization.
Study Design: Descriptive study.
Place and Duration of Study: Armed Forces Institute of Cardiology – National Institute of Heart Diseases (AFIC-NIHD), October 2009 to January 2010.
Patients and Methods: Twenty five patients underwent coronary catheterization by the transulnar approach. Patients were selected for ulnar approach coronary angiography if they had a weak radial pulse with a stronger palpable ulnar pulse with a positive reverse Allen's test (< 10 sec). No attempt was made at cannulating radial artery in the same sitting. A 6F sheath was placed inside the ulnar artery as per standard Seldinger technique, and cardiac catheterization or angioplasty was performed. The patients were examined before discharge from the hospital for any access site complications.
Results: Mean age of the patients was 48 years (range 30 to 62 years) and 80% (n= 20) were men and 20% (n=5) were females. Successful puncture was achieved in 100% (25/25). One out of twenty five patients had same sitting PCI with stenting to LAD and LCX. No case of arterial spasm, haematoma, pseudoaneurysm, vascular perforation or loss of pulse was observed.
Conclusion: We conclude that the transulnar approach is a safe and efficacious alternative for diagnostic and therapeutic coronary intervention in presence of weakly palpable radial artery and a stronger palpable ulnar artery with positive reverse Allen's test.
Downloads
Download data is not yet available.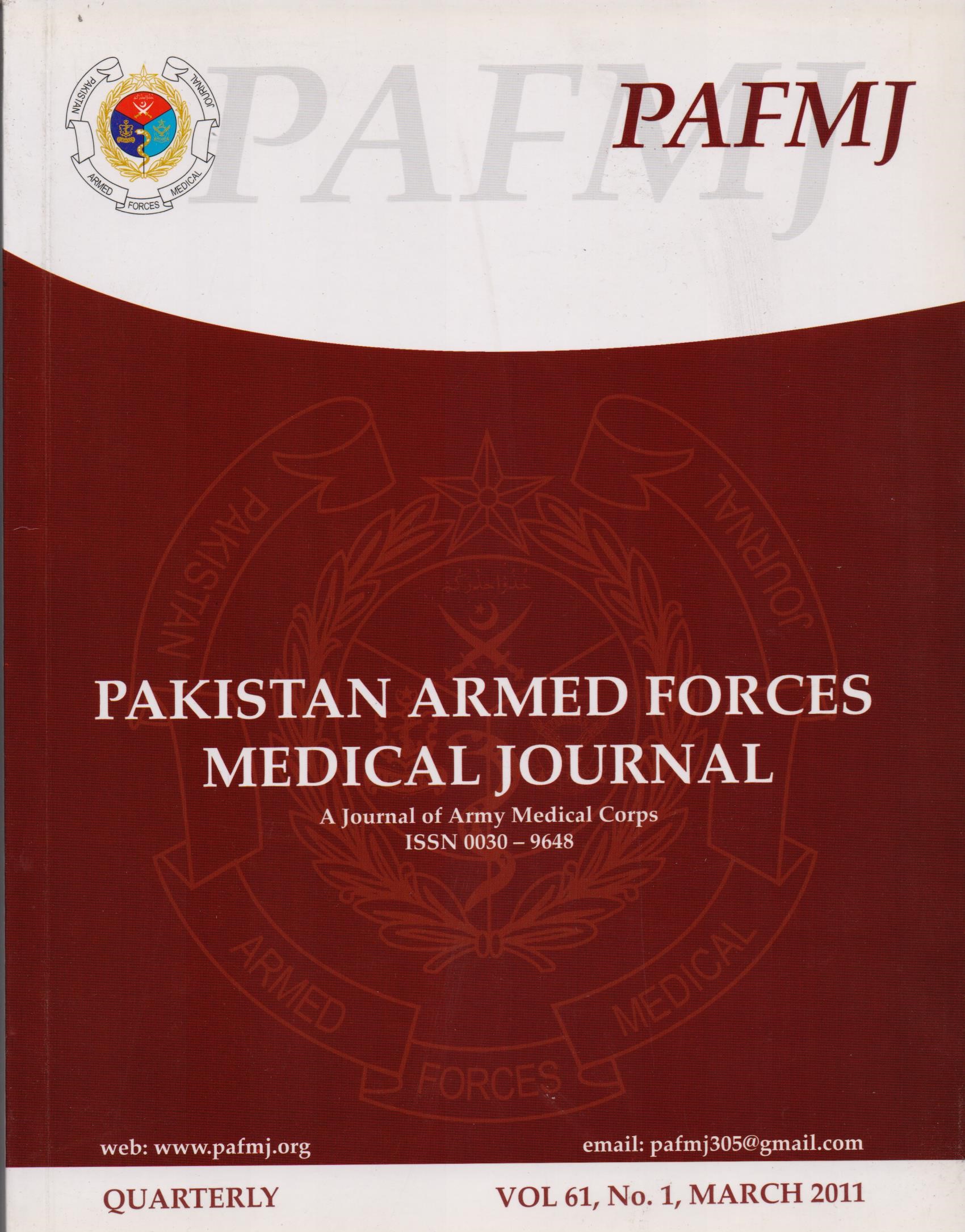 Downloads
How to Cite
Javed, A., Aziz, S., Ali, J., & Kayani, A. M. (2011). TRANSULNAR ACCESS FOR CORONARY ANGIOGRAOHY AND INTERVENTION. Pakistan Armed Forces Medical Journal, 61(1). Retrieved from https://www.pafmj.org/PAFMJ/article/view/1825
Section
Original Articles