CAESARIAN SECTIONS: FREQUENCY AND INDICATIONS AT PERIPHERAL TERTIARY CARE HOSPITAL
Caesarian Sections: Frequency And Indications
Naila Tahir

Combined Military Hospital Abbottabad Pakistan

Muhammad Adil,

Combined Military Hospital Abbottabad Pakistan

Sadia Fatima

Combined Military Hospital Abbottabad Pakistan

Shahbaz Khan

Combined Military Hospital Abbottabad Pakistan
Keywords:
Caesarean section, Frequency, Indications, Robson classification
Abstract
Objective: This study was conducted to determine the frequency and indications of caesarian section (CS) at
Combined Military Hospital (CMH) Abbottabad.
Study Design: Descriptive cross sectional study.
Place and Duration of Study: Obstetrics & Gynecology Department, CMH Abbottabad, from Sep 2016 to Mar
2017.
Material and Methods: A total of 2,340 females delivered during the study duration were enrolled in study.
Medical records of all the patients were analyzed retrospectively to determine the CS rate. Patient's demographic data, obstetric history, and indications and type of CS were recorded. Data were entered, coded and analyzed in IBM SPSS Statistics 20 software. Descriptive statistics were produced.
Results: Of 2340 births, 1093 (46.7%) were via CS with about 50.9% being emergency CS. Mean age of the patient who underwent CS was 26.7 years. The most frequently noted indication was previous CS (59.4%), followed by poor progression of labor (32.2%), and fetal distress (26.9%). More than half of the women (57.7%) who underwent CS fell into Robson Group 5 i.e. were multiparous with at least one previous CS and had a single cephalic pregnancy at term.
Conclusion: CS rate at our setting was comparable to rates at similar tertiary care hospitals in Pakistan. The most common indication was previous scar, the most frequently observed indication in literature.
Keywords: Caesarean section, Frequency, Indications, Robson classification
Downloads
Download data is not yet available.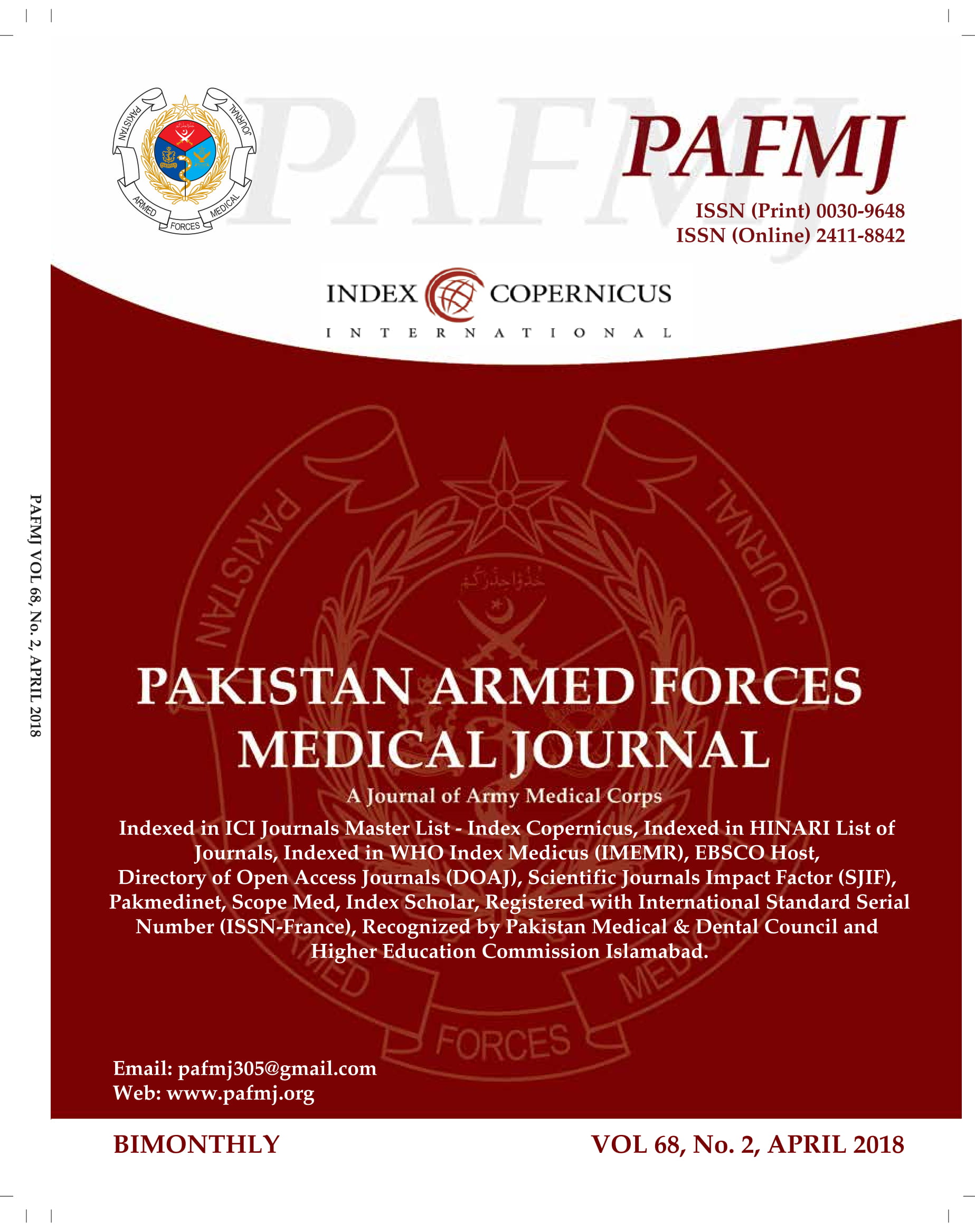 How to Cite
Tahir, N., Adil, M., Fatima, S., & Khan, S. (2018). CAESARIAN SECTIONS: FREQUENCY AND INDICATIONS AT PERIPHERAL TERTIARY CARE HOSPITAL. PAFMJ, 68(2), 273-79. Retrieved from https://www.pafmj.org/index.php/PAFMJ/article/view/493
Section
Original Articles