VENTILATOR ASSOCIATED PNEUMONIA IN TRAUMA PATIENTS; ASSOCIATED RISK FACTORS, MICROBIAL ETIOLOGY AND OUTCOME
Sohaima Manzoor

Shaheed Mohtarma Benazir Bhutto Institute of Taruma & Civil Hospital, Karachi Pakistan

Farzana Batool

Shaheed Mohtarma Benazir Bhutto Institute of Taruma & Civil Hospital, Karachi Pakistan

Muneeba Ahsan Sayeed

Shaheed Mohtarma Benazir Bhutto Institute of Taruma & Civil Hospital, Karachi Pakistan

Azizullah Khan Dhiloo

Dow University of Health Sciences, Karachi Pakistan

Humera Muhammad Ismail

Shaheed Mohtarma Benazir Bhutto Institute of Taruma & Civil Hospital, Karachi Pakistan

Shehla Baqai

Shaheed Mohtarma Benazir Bhutto Institute of Taruma & Civil Hospital, Karachi Pakistan
Keywords:
Associated pneumonia, Gram negative bacteria, Intensive care unit, Multi drug resistance, Trauma, Ventilator
Abstract
Objective: To assess the incidence, risk factors and outcome of ventilator associated pneumonia in trauma patients.
Study Design: Prospective observational study.
Place and Duration of Study: Shaheed Mohtarma Benazir Bhutto Institute of Trauma, Karachi, from Jul to Dec 2019.
Methodology: All trauma patients, above 12 years, placed on mechanical ventilation in the emergency room or intensive care unit, were enrolled. Patients that developed a clinical pulmonary infection score of less than 6 were diagnosed with ventilator associated pneumonia.
Results: A total of 113 patients were enrolled in this study. Mean age was 32.9 ± 14.4 years. Thirty eight (33.6%) developed ventilator associated pneumonia. Patients with ventilator associated pneumonia, compared to non-ventilator associated pneumonia, had a longer emergency room stay of 7.8 ± 10.1 vs. 4.7 ± 7.4 days (p-value=0.013), greater ventilator days of 18.5 ± 12.6 vs. 7.9 ± 5.5 (p-value=0.001), longer hospital stay of >14 days in 65.8% vs. 33.3% (p-value=0.001) and higher mortality of 65.8% vs. 56% (p-value=0.213). Nurse to patient ratio and infection control measures for prevention of ventilator associated pneumonia were significantly reduced in emergency room compared to intensive care unit (p-value=0.001). Out of 43 respiratory isolates in 38 ventilator associated pneumonia patients, 40 (93%) were gram negatives of which 23 (57.5%) were multidrug resistant with polymyxins as the only therapeutic option.
Conclusion: There was a high incidence of ventilator associated pneumonia in patients with trauma. Prolonged retention in the emergency room is a significant risk factor for ventilator associated pneumonia, due to understaffing..................
Downloads
Download data is not yet available.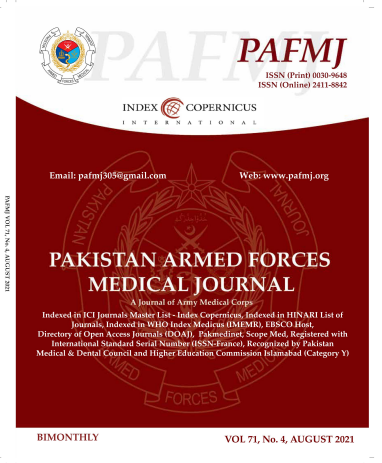 How to Cite
Manzoor, S., Batool, F., Sayeed, M., Dhiloo, A., Ismail, H., & Baqai, S. (2021). VENTILATOR ASSOCIATED PNEUMONIA IN TRAUMA PATIENTS; ASSOCIATED RISK FACTORS, MICROBIAL ETIOLOGY AND OUTCOME. PAFMJ, 71(4), 1476-80. https://doi.org/10.51253/pafmj.v71i4.6278
Section
Original Articles