EVALUATION OF DRUG-PRESCRIBING PATTERNS AT OUTPATIENT CLINICS OF PUBLIC HEALTH FACILITIES IN MIRPUR AZAD KASHMIR
Saman Omer

Army Medical College/National University of Medical Sciences (NUMS) Rawalpindi Pakistan

Bushra Tayyaba Khan

Army Medical College/National University of Medical Sciences (NUMS) Rawalpindi Pakistan

Omer Jalil

Mohiuddin Islamic Medical University, Mirpur Azad Jammu & Kashmir, Pakistan
Keywords:
Drugs, Standards, Pakistan, Polypharmacy, Prescriptions, World health organization
Abstract
Objective: To evaluate prescribing practices in public health facilities of district Mirpur, Kashmir where no previous evidence regarding drug-prescribing behaviours was available.
Study Design: Cross-sectional study.
Place and Duration of Study: Department of Pharmacology and Therapeutics, Army Medical College, Rawalpindi and outpatient departments of public health facilities in district Mirpur, Kashmir, from Aug to Oct 2020.
Methodology: The prescribing pattern analysis was done by objective observations of prescriptions after patient-physician encounter. World health organization defined core and complementary prescribing indicators were evaluated for all the prescriptions.
Results: Among the core prescribing indicator, average number of medicines per prescription were 3.11 (World Health Organization's standard, 1.6-1.8). Only 2% and 67% of medicines were generic and essential medicines respectively (standard, 100%). Almost half the prescriptions contained antibiotics (standard, 20-26.8%) whereas 8% had injections (standard, 13.4- 24.1%). Among the complementary indicators there was no prescription without medicines and average prescription cost was 479 Pakistani Rupees.
Conclusion: This is the first study to give a snapshot of prescribing behaviours in public health facilities in Kashmir. All the prescribing indicators except injectables were below the standards. A multi-disciplinary approach involving authorities, industry and professionals is required to promote rational prescribing.
Downloads
Download data is not yet available.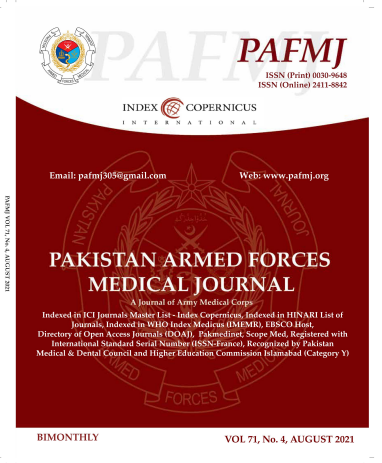 How to Cite
Omer, S., Khan, B., & Jalil, O. (2021). EVALUATION OF DRUG-PRESCRIBING PATTERNS AT OUTPATIENT CLINICS OF PUBLIC HEALTH FACILITIES IN MIRPUR AZAD KASHMIR. PAFMJ, 71(4), 1243-47. https://doi.org/10.51253/pafmj.v71i4.6251
Section
Original Articles